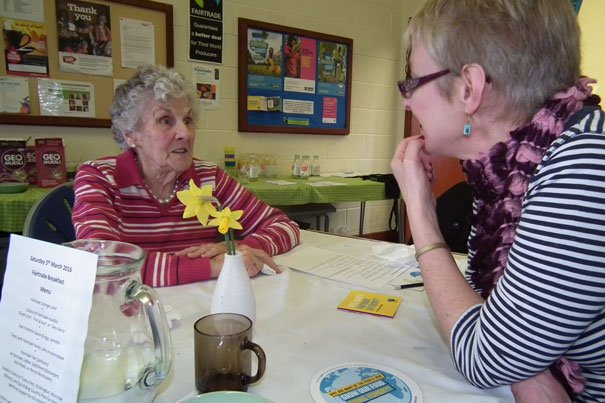 Cherry Burton celebrated Fairtrade Fortnight by joining with the rest of the country in holding a Big Fairtrade Breakfast in the St Michael's Centre on Saturday March 5th.
The menu was packed with Fairtrade and Yorkshire products in recognition of the importance of farmers in developing countries and our own Yorkshire farmers.
Fairtrade mueslis and orange juice were followed by a cooked breakfast of East Riding Country Pork bacon and Field House Farm, North Newbald eggs, accompanied by toast and Fairtrade marmalade/jam/honey, and all washed down by a choice of Fairtrade ground coffees or tea. Even the milk was local from Chestnut dairies and butter from the Dales Creamery.
Ros Stanley from Cherry Burton Fairtrade and Local Produce Group said:
"Fairtrade means many producers and workers are able to put enough food on the table for themselves and the people they care about, all year round. We have been campaigning for Fairtrade for thirteen years, and have learned what a difference it makes for the world's most vulnerable communities.
400 million hungry people live on small farms and work to produce many of the foods we eat or drink. Fairtrade is something everyone can engage in and make a positive difference in our very challenging world."
It's easy to get behind Fairtrade Fortnight 2016 by enjoying a Fairtrade drink and food at any time of day. You can then 'Make Your Breakfast Count' on the fairtrade.org.uk/breakfast website.
More information on www.cherryburtonftlp.org