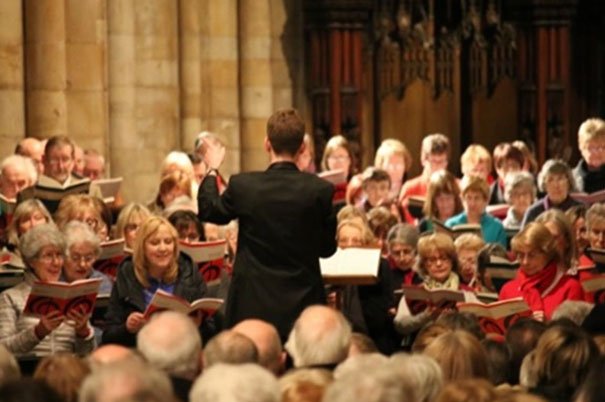 A packed Beverley Minster was treated to a unique community performance of Fauré's Requiem on Saturday, in memory of former Minster Music Director Alan Spedding MBE.
The Come and Sing! event, which marked the launch of the New Paths Music Festival in April, also raised more than £2,000 to provide bursaries for talented teenagers to attend a life-changing week of music making and inspiration.
Almost 200 professional, experienced amateur and brand new wannabe choral singers, from throughout the region, spent the day learning and rehearsing the inspiring piece of music, before taking part in a public performance in the nave of the Minster which was attended by hundreds of members of the local community.
The choir was conducted by Ashley Grote, Master of Music at Norwich Cathedral and joined by soprano Katherine Crompton and baritone Edward Grint. Organist Tim Harper accompanied the choir on the magnificent Minster organ and there were also solo pieces from Katherine Crompton and Edward Grint, accompanied by New Paths Artistic Director and accompanist Libby Burgess.
During the event, both Libby and fellow New Paths' founder, Roland Deller, spoke about Alan Spedding and his influence in the region, and outlined their vision for New Paths, announcing the programme for the inaugural festival which takes place from 7-10 April 2016.
Mr. Deller saud:
"We are delighted that the Come and Sing! gave singers who knew Alan, and who sang under him, the chance to join together to commemorate him in such a special place. The event raised well over £2,000 for the Alan Spedding Memorial Fund at Oundle for Organists and I would like to thank the Minster – and particularly to Reverend Jeremy Fletcher – for hosting such an exciting and memorable day. We are incredibly excited to see New Paths underway!"
Reverend Jeremy Fletcher added:
"It was a great privilege to be part of the 180 massed voice choir in memory of Alan Spedding. Ashley Grote did wonders with such a huge group of totally unrehearsed but enthusiastic singers and we made a magnificent sound. As the Minster's choral conductor, organist and teacher for more than 40 years Alan was an inspirational figure and many members of the massed choir had sung for or been taught by him over the years. I am sure he would have been extremely proud of what we all achieved."
"Huge thanks to organisers Roland Deller and Libby Burgess for starting Beverley's New Paths Music Festival on such a high. The countdown to the main festival has begun!"
From 7 to 10 April 2016, the inaugural New Paths music festival will see some of the UK's finest young professional singers, chamber musicians and organists gather in Beverley in the East Riding of Yorkshire for a long weekend packed with concerts, community events and sparkling music-making.
From classical concerts to barbershop and opera, the festival aims to bring music of all kinds to every corner of the town.
There will be world-class chamber concerts at St Mary's, atmospheric late-night events in the Minster, children's concerts, talks in coffee shops, barbershop singing over drinks, masterclasses for local young musicians in partnership with the University of Hull, and a community programme taking music to those who are not normally able to hear it.
For a full festival programme please visit www.newpathsmusic.com. All tickets are available to purchase in person or online at East Riding Theatre Box Office (http://ert.eticketme.com/).