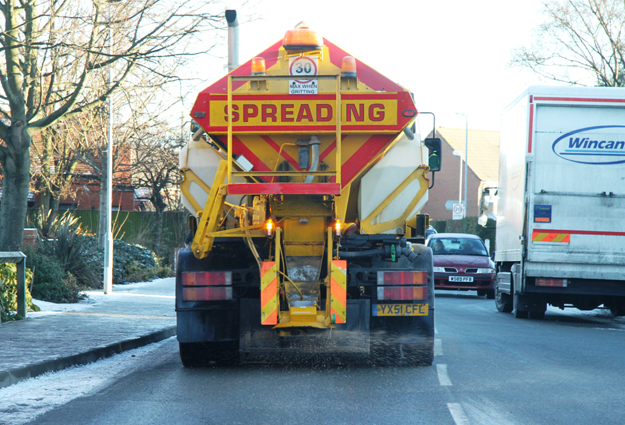 Motorists are being urged to take extra care on the roads in the days ahead as icy conditions continue to grip the East Riding.
A combination of freezing temperatures, rain and sleet has led to slippery road conditions in many parts of the county, and even colder weather is forecast over the weekend and into next week.
The council's gritting lorries have been working around the clock over the past two days (Wednesday and Thursday), treating the precautionary network of roads with rock salt.
Heavy rain has made the task more difficult, leading to repeated treatments on all the routes.
But the fleet will continue to make sure roads are well gritted ahead of possible snow showers, frost and ice.
Mike Featherby, the council's head of streetscene services, said: "Our gritters have been treating the network almost continuously over the past 48 hours, and we're expecting more widespread sub zero conditions over the weekend.
"So we would advise drivers to take extra care, plan their journey in advance and allow extra time for travel."
The council is issuing the following advice to help residents drive safely during winter conditions:
Driving on ice and slush:
• Drive slowly using the highest gear possible to avoid wheel spin.
• Manoeuvre gently, avoid sudden braking or acceleration.
• When slowing down, get into a low gear as early as possible and allow your speed to reduce using the brake pedal gently.
• Leave plenty of room between you and the vehicle in front. Remember, in these conditions it can take 10 times longer to stop than on a dry road.
Driving in winter sun:
• Dazzle from the winter sun is an underestimated hazard. Carry sunglasses to help reduce the glare.
Driving in fog:
• Drive slowly using dipped headlights or fog lights.
• Do not drive too closely to the vehicle in front.
• Do not speed up if the fog suddenly lifts, it drifts rapidly and is often patchy.
In difficult conditions:
• Do not drive unless you absolutely need to.
• Check weather forecasts and travel information.
• If possible, tell someone when you expect to arrive.
• Make sure you are equipped for your journey with warm clothing, food, a torch, a shovel, water, boots, a hazard warning triangle and a fully charged hands free mobile phone.