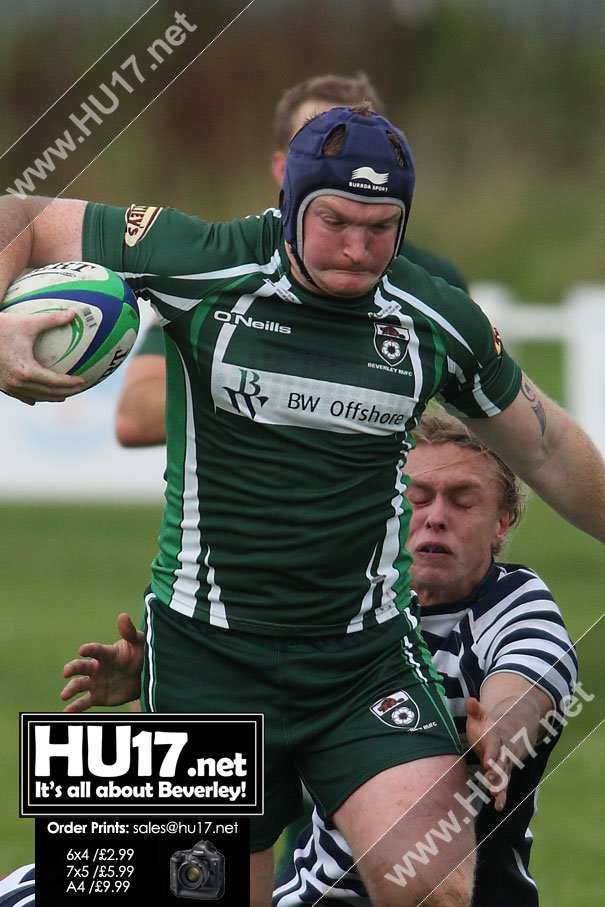 Beverley headed up the road to Newcastle to face Northern on Saturday. Actually it would be more accurately described as up the river than up the road bearing in mind the appalling weather conditions.
However on arrival thankfully the monsoon like rain had given way to watery sunshine and Beverley kicked off with conditions slightly improved although still on a pitch sodden by days of heavy rain.
Unfortunately the ball skidded of Phil Duboulay's boot and did not go forward the required distance.
From the resulting scrum Northern mounted a series of attacks on the Beverley line which were defended well but eventually a break from halfway by the Northern outside centre exposed a huge gap on the Beverley flank and winger James Mitchell raced over in the corner (5-0).
Almost immediately from the re-start another powerful break up the middle looked ominously dangerous but a last ditch tackle by Luke Hazell saved the day. Play settled down and after a shaky start by Beverley play become more even although scrappy. Obviously handling was very difficult under the conditions and eventually Beverley were awarded a penalty which Phil Duboulay kicked (5-3).
Play was pretty even although un-inspiring. Both sides were becoming frustrated with the inconsistent refereeing and after half an hour Northern No 10 Ollie Allman kicked a penalty for Northern (8-3). On the stroke of half time Northern were awarded try under the posts scored and converted by Ollie Allman (15-3).
The second half began in much the same manner as the first with Northern pressing hard and Beverley resisting well. Eventually the pressure was relieved by a good run by Luke Hazell up to the half-way line carried on by Phil Duboulay who received a nasty looking injury in the process of kicking to touch. After a period of treatment he was able to carry on.
From the lineout a loose ball was kicked through by Beverley forwards a Craig Hancock gathered to touch down. In truth the try looked fairly dubious but the decision to award it was about the only rub of the green that the Beavers received all afternoon. Phil Duboulay converted (15-10) and they were still well in the game. However it was not to be.
Northern attacked down the flank and scored another try in the corner through No 8 Tom Schofield who had a very impressive game for Northern (20-10).
Beverley were not beaten yet and came back up the field to be awarded a penalty which Jamie Gill missed from well out but were shortly awarded another closer in which Duboulay converted (20 – 13). Still only one score in it and Beverley were looking likely to pick up a well deserved bonus point but it was not to be.In the dying seconds No 8 Schofield shattered Beverleys hopes with his second try.
Final score Northern 25 Beverley 13. Rough justice for the Beavers. Both sides had endeavoured to play some rugby in a good spirit despite the conditions and all was not doom and gloom.
There was no lack of effort from the Beverley players and particularly Alex McPeake, Martin Shaw and Sam Courtney grafted away all afternoon in the forwards and Jack Buckland and Luke Hazell both showed up well in the backs.
Beverley looked fine with the ball in hand and tackled reasonably well but they must tighten up their defensive set up. They played a very narrow defence and left enormous gaps out wide which Northern exploited a little but which better teams will exploit a lot more.
Final Score : Northern FC 25 Points Beverley RUFC 13