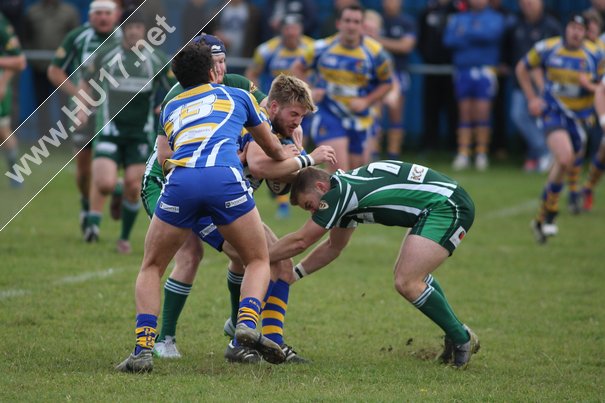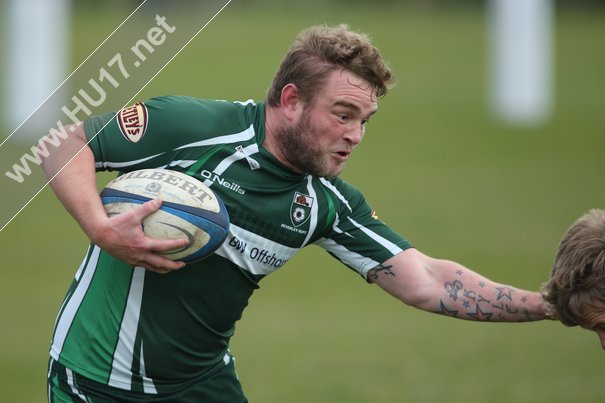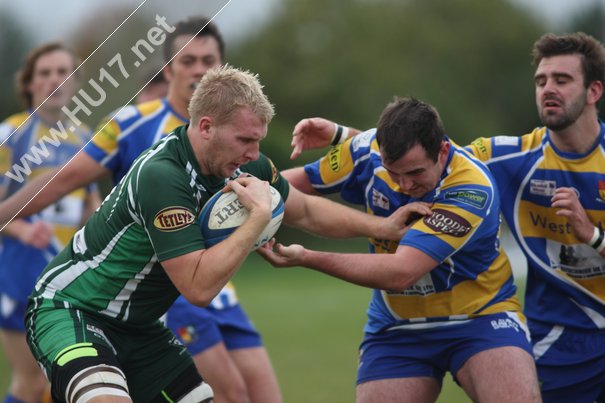 The least said about this the better. After several weeks of steady improvement this was a hugely disappointing step backwards for Beverley. It was probably not a fixture they would have expected to win but they would certainly have expected to give Dinnington a good game. Or at any rate a better game than they did today. Dinnington are an impressive side riding high in the league but whether they are as good as Beverley made them look here may be questionable.
It all started to go wrong for Beverley from the kick-off. They dropped the kick-off ball, almost immediately gave away a penalty and from the resulting lineout Dinnington drove over for a try. Fly half Jonny West added the conversion and the home side were seven points up after only three minutes. Five minutes later another penalty conceded in exactly the same place led to a repeat performance and again the home pack drove over.
Beverley were struggling to get into the game and found it hard to make any impact. Phil Duboulay was narrowly wide with two long range penalties and on twenty minutes they did almost score but were held up over the line. From the resulting five metre scrum they drove up to the line but inexplicably Dinnington emerged with the ball and mounted an attack of their own from their own line. It was the nearest Beverley got all afternoon.
Worse was to result from it, albeit it was tough on Beverley. Dinnington ran the ball and instead of what should have been a scrum for a monumental forward pass play was allowed to go from one end of the field to the other and flanker Danny Pilkington touched down for a third try. Any hopes Beverley might still have had of turning the game round were finally extinguished two minutes before halftime when a wild pass in midfield thrown to no-one in particular was intercepted and wing Rob Leivars had an easy run-in for a fourth home try. 27-0 at the break and it was all over for Beverley.
After that it was nearly all one-way traffic. Beverley stuck at it, none more so than Jack Bunn who had an outstanding game at number eight, but they could make little headway. Beverley never looked like breaking through Dinnington's spread defence which meant they could never get their attacking game going. It almost now goes without saying that all over the field Beverley's failure to retain possession in good attacking situations was again proving costly. In the second half the normally reliable Beverley defending also started to founder.
Two minutes after the restart Dinnington number eight Will Marshall rampaged from halfway through some half-hearted tackling to go over for fifth try. Prop Gary Woodcock quickly added another and an embarrassing rout looked to be on the cards for Beverley. Luckily with the help of some wayward home handling Beverley somehow managed to keep it down to only one further score. Dinnington were reduced to fourteen when lock Michael Leitch was yellow carded but while he was off they attacked down the left and Leivars cut inside from his wing to touch down for a final try. Of Dinnington's seven tries only one conversion was missed.
For Beverley Andy Rowbotham and Duboulay combined well at halfback and Rayno de Kock frequently caught the eye at number seven. The returning Alex Ogilvie brought some much needed muscle to the Beverley front row and Vinny Collingwood tackled well on the wing although he did not see enough of the ball to make any impact in attack. In some mitigation for a disappointing Beverley performance it should be said that they were without Kris Renwick, Craig Hancock and Junior Tupai, three of their most senior experienced players.
Next week Beverley entertain fellow strugglers Westoe at Beaver Park in a hugely important fixture that Beverley will be looking to win. But it will all have to be a good deal better than this.
Final Score: Dinnington 47 Beverley RUFC 0 | John Nursey