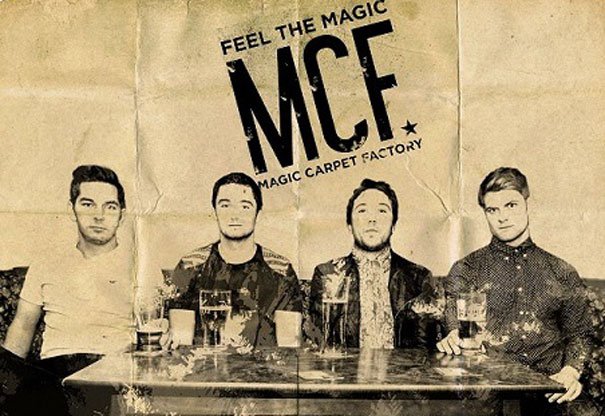 After running one of the stages at the successful Hedfest festival Quiet Riot returns to Beverley for another monthly gig where we bring some of the best local acts into the town.
Quiet Riot 9 at Hodgsons Pub on Flemingate promises to be a loud and lively evening with three guitar bands of distinct sounds: Magic Carpet Factory Cannibal Animal and Froot 67 following on from the great tunes of Lee Atkinson 'Elwhaeko'
Hailing from Hessle, Magic Carpet Factory, sometimes known as 'MCF' list some of their influences as Courteeners, The Stone Roses and the Arctic Monkeys.
MCF released a double-A side single in May 2014 titled 'Relied on Luck/Midnight Kiss'. 'Relied on Luck' has received radio play by the BBC, and named as a 'single of the month' by the indiemine.com.
Magic Carpet Factory have gigged alongside bands such as Tribes, The Enemy, Peter Hook and The Pigeon Detectives.
Cannibal Animal are a fresh new hull three piece taking influences from the atmospherics of post punk, the sonic squall of noise rock/punk/alt rock and the pop sensibilities of Nirvana.
Formed from the ashes of short lived Hull Shoegaze band DAZE, they combine icy echo drenched chainsaw guitars & manic razor sharp vocals with sleazy fuzz bass picked up from the Mojave Desert and add in some grooving scattergun drums to create a sound that will cure that filthy rash you've been thinking of going to doctors about……Catch energetic live performances very very soon!
The Froot'67 Welcome You Aboard….Strap in And Enjoy The Ride!!
In late 2013, Stevie, Louie, Zach and Jack met at Hessle High School, where after months of hard work, combined their influences to create the Dark Progressive Rock band known as The Froot '67. They have played at The Sesh and headlined a stage at the Cottingham Springboard Festival as well as releasing their debut album 'Seven Past Eight'.
Unique, soulful and northerly vocals drench stories with alluring melodies and bring to life the underbelly of his native Yorkshire. 'Elwhaeko' is the solo project of singer / songwriter, Lee Atkinson (formerly Making Dens / JSMG).
A modern take on folk and indie guitar music, the hooks are classic and the words offbeat, woven into intricate, beautiful and original melodies. The songs engage through protagonists such as 'Roxy', 'Coco Rose' and 'A Devil of a Man' and expect something similar in tone to that of Nick Cave, Scott Walker and Jarvis Cocker.
Working on his debut album with producer 'John Cox', Elwhaeko is in no short supply of material and will often be joined on stage by other musicians creating a versatile and inspiriting sound. His debut album was due for release during the summer to coincide with the festival season in the region. Elwhaeko can be seen playing around Yorkshire and beyond.
Tickets are £5 on the door or £4 from Minster Records, Molescroft Newsagents and the Chinese Laundry in Hull.
The gig is held at Hodgsons on Flemingate and the night begins at 8.30 and runs through till 12.45 as the gig is followed by the tracks of the Rebellious Jukebox.