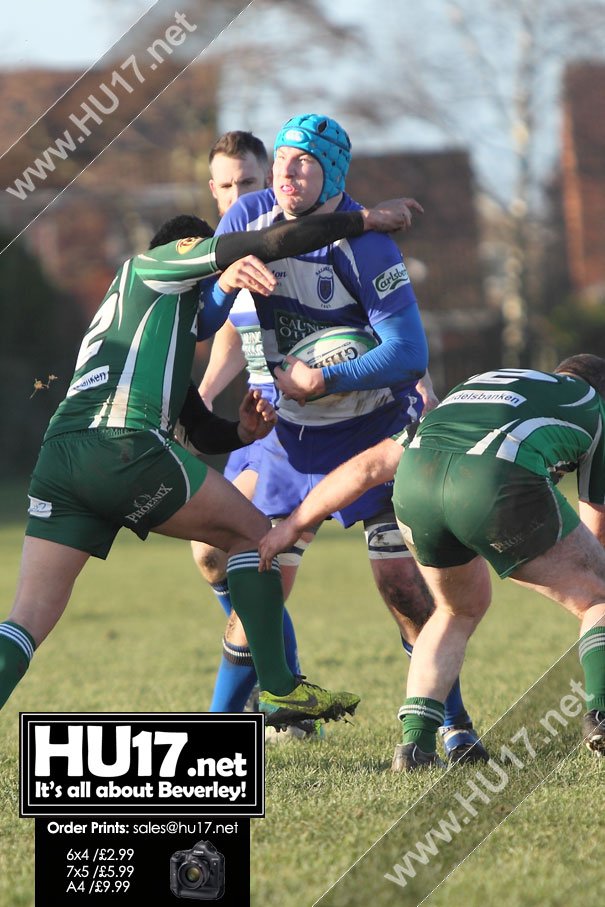 A one-sided first half but overall plenty of exciting rugby. On an afternoon of early spring sunshine both sides ran the ball from anywhere and despite the final margin of defeat Beverley RUFC emerged from the game with great credit for a wholehearted display. Sale are a polished side, easily the most accomplished in this league, and the gulf in class between the top and bottom teams was clear. Sale romped along at a point a minute throughout the first half and led 41-0 at halftime. Yet Beverley contributed to an enjoyable game and never stopped playing with ambition and spirit. After the break Sale were given a good run for their money and only managed to take the second half 17-12.
Beverley started the game promisingly with plenty of possession although it was only a last-ditch tackle by Lewis Starbuck in the corner that prevented a Sale try in the opening minutes. Play was pretty even until a promising break in midfield by Sam Atiola ended in disaster for Beverley when his pass was dropped and Sale stormed upfield. Wing Ciaran Connelly kicked ahead and scored in the corner.
After that Sale started to turn it on. Their backline is fast and well drilled and they were fairly easily able to open up the Beverley defence with slick and clever movement. The scores began to flow. Connelly crossed for his second try, fellow wing Jack Moorhouse added another, and fly half Liam McGovern touched down and converted to take Sale to 24-0 after twenty minutes.
Beverley with less possession continued to give it a go. Only a forward pass prevented James Graham going over in the corner after smart work by James McKay, Junior Tupai and Atiola. Ambitiously though they played Beverley lacked Sale's speed and cutting edge and in the last ten minutes of the half Sale stretched further ahead with tries by full back Mark Lawrence, Moorhouse, and scrum half Sam Stelmaszek, plus a third conversion.
Having succumbed to 41 points in the first half Beverley responded splendidly in the second. Within five minutes they were on the scoreboard with a try in the corner by wing James Wright after Atiola had made a spectacular break on halfway. Atiola had an impressive match in the centre making several powerful runs but rather spoilt it with some wayward passing. A cleverly worked move involving Tupai and Atiola would have brought a superb try had the final pass to Robbie Davison not gone to ground when the full back needed only to catch the ball and touch down.
Sale continued to play in the same vein but they were restricted to only three tries in the second half, one touched down by flanker Danny Waddy after a catch and drive by their pack, and two from fellow flanker Adam Aigbokhae who powered his way over from 20 metres, and then followed it with a second from a lineout on halfway.
Beverley remained undaunted by the score and showed no sign of capitulating. They were playing some good stuff of their own. Their pack was never outplayed and remained solid throughout. They tackled well, did not yield in the set pieces, and lost only one lineout when the wind took the ball straight into Sale hands. Anthony Maka was a powerhouse at eight and Craig Hancock and Starbuck were always in the thick of things. In the backs Ryan Murray had a decent match at fly half. Davison ran well from full back.
With time running out you felt that while Beverley had never deserved to win the match their never-say-die effort deserved something better than the 58-5 scoreline they looked like finishing with. But in the dying minutes they did get some consolation when Tupai started a back move from behind his own line. The ball found its way to Wright who sprinted the length of the field, outpacing the home defence to touch down under the posts. Murray converted and that was that.
Final Score : Sale 58  Beverley RUFC 12 | Reported By John Nursey