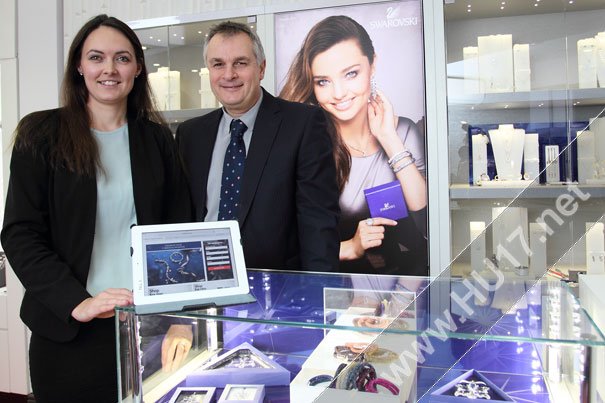 Hugh Rice, one of Yorkshire's most prestigious family jewellers, has recently launched a brand new ecommerce website and brand image.
Fully responsive, the new website is works across all mobile and tablet devices and also offers a brand new click and collect service, which allows shoppers to order items direct to High Rice's Hull store in St Stephen's Shopping Centre.
The new brand image and website comes at an exciting time for the company, as it has recently opened a new multi-brand store in Harrogate and a Pandora concept store in Bradford.
A Hull-based company Hugh Rice now has ten stores across the country, including Beverley with Pandora concept stores in Meadowhall and Leeds.
Hugh Rice's new website features more brand-focused content and video than it did previously, enhancing the online customer experience. James Rice, Sales and Marketing Director for Hugh Rice, comments:
"2014 has been a very successful year for Hugh Rice, and our online business continues to grow rapidly. To maintain momentum we needed to move the website in line with common internet usage and ensure it was mobile friendly."
"The new website also allows our customers to complete online credit applications and features an enhanced gift finder too. We're delighted with the end result and it has launched at the perfect time ahead of our busy festive period."
In addition to updating its online shop, Hugh Rice has also rolled out a brand new, updated brand image. James comments:
"We felt updating the website gave us a fantastic opportunity to update our brand image. We've refreshed what we already had and made it more flexible to work across different platforms including our bags, print advertising and social media."
"When working with our design agency on the brand concept, we were keen to ensure we achieved the correct tone of voice to reflect the increasing size of our business, yet still remain loyal to our roots of personal, customer-focussed service. We think our new image has achieved this perfectly and our customers love it!"
Hugh Rice was founded in 1971 and trades from ten stores across the Yorkshire region employing a team of over 200 people, who go above and beyond to deliver an excellent customer experience.
Hugh Rice boasts some of the finest international brands, including Omega, Breitling, Tag Heuer and Chopard as well as a selection of contemporary lifestyle brands including Pandora, Michael Kors, Thomas Sabo and Swarovski along with its own brand of fine diamond jewellery.
In 2014, Hugh Rice announced a sponsorship deal with professional boxer and Olympic gold medallist, Luke Campbell.
PHOTO : Jenni Jackson and Jon Fisk from the Beverley Branch of Hugh Rice