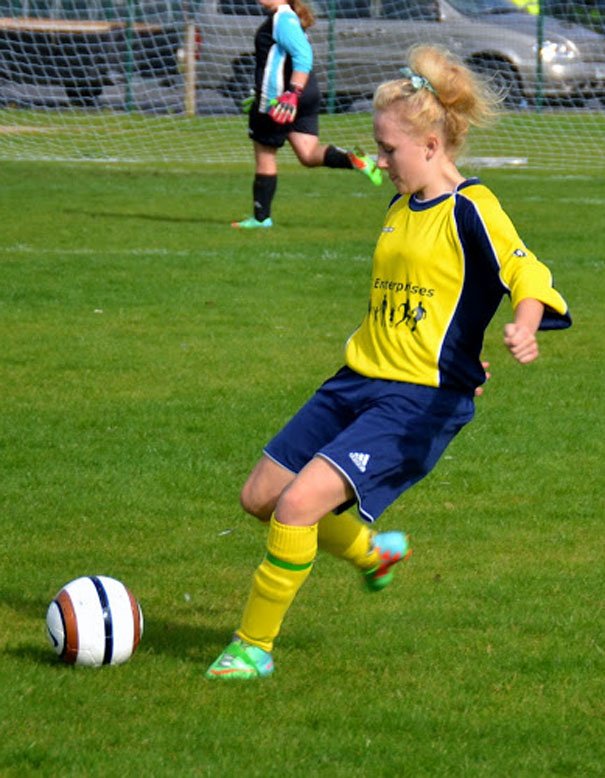 On a very cold December morning Mill Lane United Yellows went back to the top of the East Riding Girls Football League with a hard fought victory against a well organised and committed Pinefleet side.
Both sides played well, creating a very entertaining game in very cold conditions and it was only three goals in the last 15 minutes that took the game away from a very brave Pinefleet side.
Straight from the start Pinfleet chased and harried their opponents giving them no time on the ball and charging into the tackle to make things very difficult for the Yellows. Mill Lane Yellows for their part tried to play football on a difficult pitch and created the better chances with Tonya Storr and Charlotte Holliday showing up well and creating havoc in the Pinefleet defence everytime they had the ball.
The only goal of the half came from one of these attacks when Storr stormed down the left on a mazy run before cutting inside and unleaching a tremendous shot that Pinefleet goal keeper Sarah Walters could only parry into the path of striker Marie Russell for a simple tap into give the Yellows a 1-0 half time lead. Storr was replaced at half time after suffering an ankle injury and this meant a shuffle in the Yellows attacking line.
The second half started with Pinfleet pressing for the equalizer and only resolute defending from Spriggs , Pashby, McConville Radford and Crockett kept them at bay. An end to end game is was the Yellows took control in the last quarter and scored three more goals. Russell straight from a corner and two brilliant finishes from the leagues top scorer Morgan Nagee.
A great advert for the girls league were the Pinefleet team can take great credit for their efforts with Grace Fletcher showing up well in an intelligent midfield performance and goal keeper Sarah Walters making some excellent saves.
For Mill Lane United Yellows three more points which takes them back to the top of the league with man of the matches been awarded to Charlotte Holliday who created numerous chances with her attacking play and Amy Radford who worked tirelessly throughout the 80 minutes.
Final Score : Pinefleet 0 Mill Lane United Yellows 4