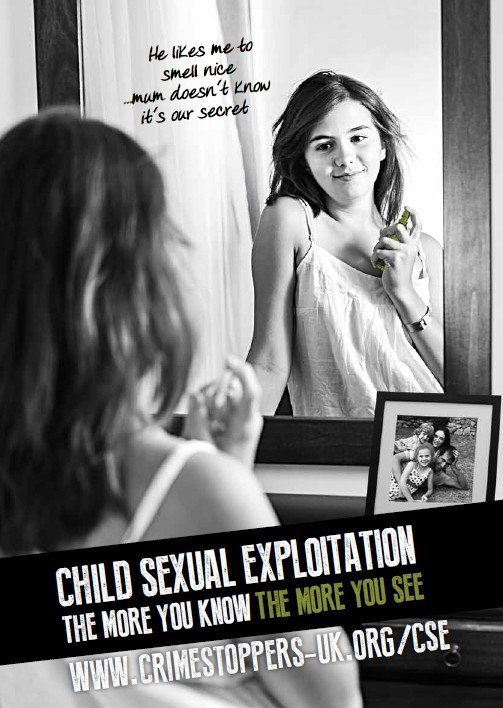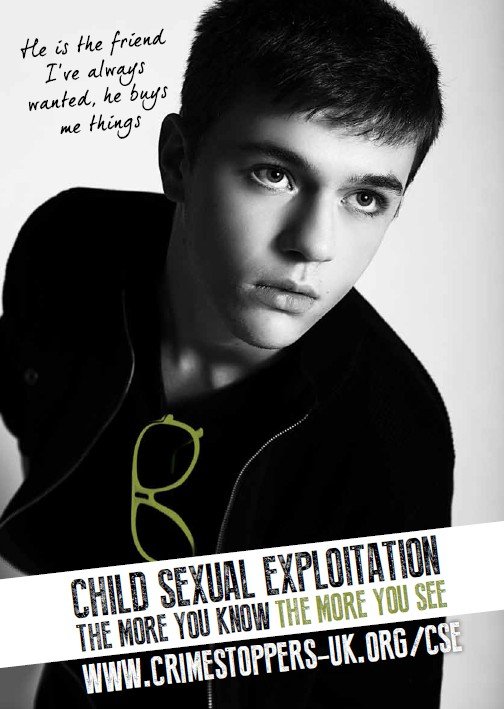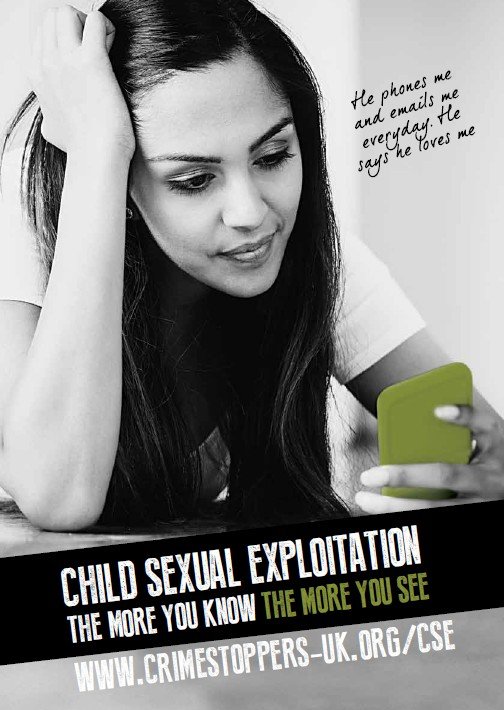 Independent crime-fighting Charity Crimestoppers is supporting Humberside Police in launching a campaign to tackle Child Sexual Exploitation (CSE).
Working alongside partner agencies, including the local authorities, the NHS and the High Sheriff of East Riding of Yorkshire, an awareness campaign will be rolled out across the whole of the Humberside force area to help tackle the issue.
Child Sexual Exploitation (CSE) is a form of child abuse where the victim is given something, such as gifts or incentives, in exchange for sexual activity.  Vulnerable young people are targeted by offenders, who use their power over the child, in order to abuse them.  This can happen to any child, anywhere, any-time, regardless of their social or ethnic background.
The campaign aims to help members of the public to recognise the signs of CSE through a wide range of media strategies.  Billboards, bus stops, flyers, posters, leaflets and calling cards have been provided to help spread the message and raise awareness throughout the community.
With the enormous amount of recent publicity and media interest in cases across the United Kingdom, Humberside Police want to stand up and show that they are here to support victims and encourage people to come forward with information relating to CSE, so they can see justice is done and victims are given the vital help they need.  Whilst this campaign is not as a result of a major issue in the Humberside area, it is intended to be informative so the public realise that CSE is an issue everywhere, and provide an understanding regarding what it is, how to recognise the signs and what to do if anyone is concerned about a child or possible offender.
This will be launched with events taking place across the Humberside area.  Thursday, Grimsby and Scunthorpe; Friday Goole; then finishing on Monday in Hull and Bridlington.  This is to ensure that the same communication is provided throughout the area with the key message that we want people to come forward with what they know – this crime will not be tolerated in Humberside.
The Charity Crimestoppers is encouraging members of the public to contact them on 0800 555 111 to provide any information they may have regarding those involved in CSE, if they feel they don't want to contact the police on 101.
By calling Crimestoppers, or going to www.crimestoppers-uk.org and using our Anonymous Online Form, you will remain completely anonymous.  We are not the police, we do not record calls or take personal details, and you will not have to give a statement or go to court.
Frank Duffield, Volunteer Chair for Humberside Crimestoppers,said: "This is a hideous crime which no child should ever have to suffer from.  We don't want children to live in fear of being abused, so we want to ensure that people know what to look out for and who to go to in order to prevent this abuse from happening, as well as ensuring that those who are committing these life shattering offences are brought to justice.
"Crimestoppers is determined to help keep communities safe and provide a voice to those people who want to fight back against crime by giving them an alternative method of reporting that information.  In the 26 years the Charity has been providing this service, we have never broken anyone's anonymity."
The campaign will also serve as a warning to those who are involved in these types of crimes, that the community and enforcement agencies are aware of the issues and are working hard to tackle the problem and bring those individuals to justice.  Child Sexual Exploitation will not be tolerated in Humberside and Crimestoppers, the Police, Local Authorities and communities will work together to tackle this crime.
Matthew Grove, Humberside Police and Crime Commissioner, said: "If there is one type of crime that outrages every decent person in society, it is the sexual abuse of children. By supporting this Crimestoppers campaign, I hope we can raise everyone's awareness to look for signs of abuse and report them, and also to educate our children that if something feels wrong it probably is, and give them the confidence to speak out. More importantly, it is our responsibility as adults to listen to them when they do.
"There always has been, and always will be people who look to exploit the vulnerability and naivety of our children. We must all be vigilant, report suspicions and guide our young people to make that transition from child to adult equipped with the knowledge and confidence to keep themselves safe".
Justine Curran, Chief Constable of Humberside Police, said: "Humberside Police is committed to preventing child sexual exploitation, helping victims and bringing offenders to justice.
"The issue of child sexual exploitation is here and now. It can affect any child, anytime, anywhere regardless of their social or ethnic background and we all have to work together to protect our young people and to educate them about their choices.
"We will continue to target offenders and prosecute them, helping to drive the message home to everyone that this sort of behaviour is unacceptable and that the police will take swift and effective action."