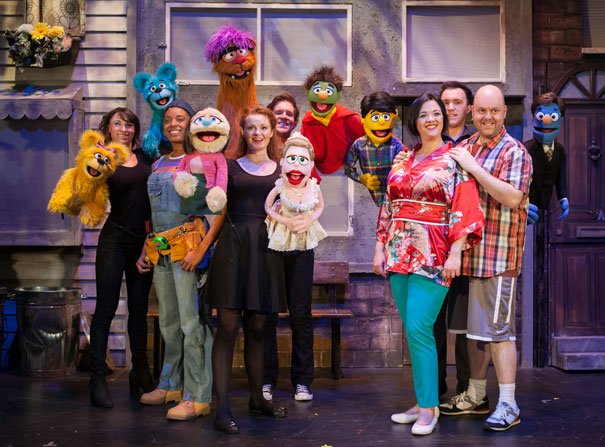 A smash hit on Broadway, in the West End and worldwide, award-winning comedy musical Avenue Q plays The Spa Bridlington bringing a host of fuzzy friends to the venue for a five day run from Tuesday 18 November.
Featuring the naughtiest puppets in town, brought hilariously to life by an ensemble cast of 11 performers, Avenue Q is a Tony Award-winning musical about growing up, dreaming big, and finding your purpose in life.
Meet Princeton, a bright-eyed graduate that comes to New York City with big dreams and a tiny bank account. Soon discovering that the only neighborhood in his price range is Avenue Q, he finds himself moving in with some truly quirky characters.
There's Brian the out-of-work comedian and his therapist fiancée Christmas Eve; Nicky the good-hearted slacker and his closet gay Republican roommate Rod, an Internet 'sexpert' called Trekkie Monster and a very cute kindergarten teacher named Kate Monster. And would you believe the building's superintendent is Gary Coleman?! Featuring hysterically funny songs, including The Internet is for Porn, and Everyone's A Little Bit Racist, Avenue Q is a hilarious musical with a warm (and very fuzzy) heart.
Andrew Aldis, general manager said,
"I'm absolutely delighted to be announcing The Spa Bridlington's second touring musical as Avenue Q; a raucous and often irreverent show featuring both human and puppet characters. The show's love duet, It's a Fine, Fine Line, is one of my favourites."
"Avenue Q was another of the shows I saw during my time working in London's West End, and it's one of those where, at times, you laugh so hard that you can't breathe!"
He went on to say, "Our first foray into touring musicals in April proved extremely popular and, with over half of tickets being sold to local residents, it confirmed that there is a desire for this kind of musical product here."
Avenue Q first opened Off-Broadway at the Vineyard Theatre in 2003, before transferring to Broadway later that year where it won three Tony Awards for Best Musical, Best Score and Best Book. In 2006, it transferred to the West End produced by Cameron Mackintosh, where it ran for five years before touring the UK. It has appeared in more than ten countries all over the world.
Avenue Q was co-created by Tony, Grammy and Emmy Award-winner Robert Lopez, who also co-created the smash-hit Broadway and West End musical The Book of Mormon. With his wife Kristen Anderson-Lopez, Robert also co-wrote the songs for Disney's recent animated feature Frozen, with his work also seen on television in Scrubs, The Simpsons and Southpark.
Avenue Q is produced by Sell a Door Theatre Company, formed in 2007 to create touring theatre aimed at teens and young adults with the ambition to attract young audiences and to excite them to the possibilities of theatre. Their recent productions include Seussical in the West End and the debut UK tour of Spring Awakening. It is co-produced by Richard Darbourne Ltd. "A fresh yet well-oiled ensemble piece, brimming with vigour"