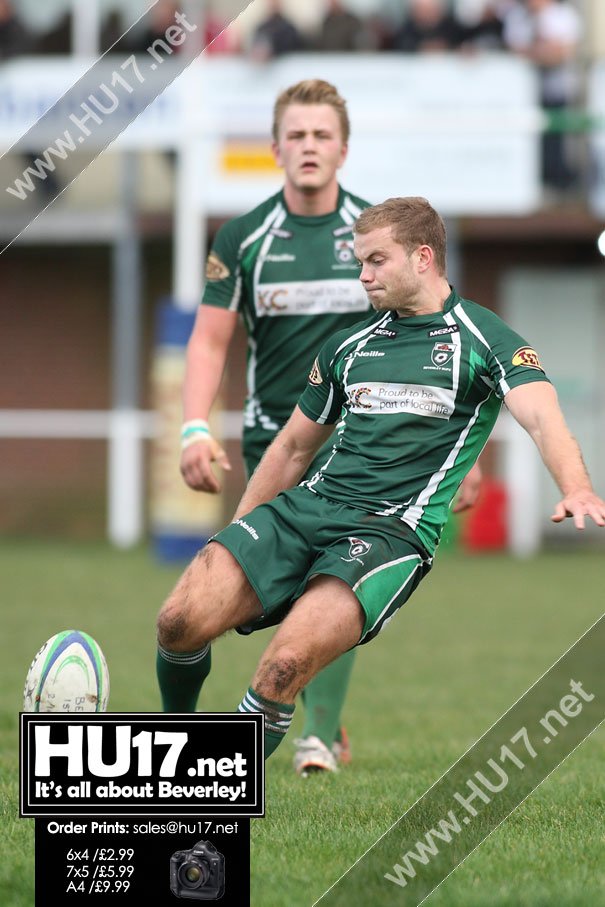 Another spirited fightback by Beverley RUFC but again not quite enough. They went from 8-39 to 29-39 and given another five minutes might well have snatched a losing bonus point. But overall they were well out-muscled here and Wirral ended worthy winners,
Beverley could point to two key moments in this match. The first after 25 minutes was the loss of their influential number 8 Stuart Nel. It was Nel's first game back after injury sustained in the opening match of the season and this was an unlucky blow for the young forward. Until then there had not been much in it.
Wirral narrowly led 7-3 from an interception try by wing Ali Baker to a penalty by Phil Duboulay. In the next quarter of an hour they swept to 27-3 with two tries by wing Adam Sheldon, another by Baker, and a penalty and a conversion from fly half Danny Harvey.
The second key moment came with twenty minutes left. With Beverley trailing 39-8 James McKay came off the bench and made a huge impact on the Beverley forward play from number eight. He brought an immediate urgency to affairs and Beverley rapidly began to claw their way back into the game. They got to within ten points and in the end were left to rue some of the careless scores they had conceded earlier.
There was no lack of spirit or effort by the relatively young Beverley pack but they found it hard going against the powerful home eight who had the physique and muscle to rumble upfield almost at will. It meant Beverley's backs were largely forced to live off scraps.
It was a pity because almost for the first time this season the Beverley backline had a look of some authority about it. Sam Atiola making a welcome return brought a liveliness to the wing play that we have not seen all season. Richard Bussey and Junior Tupai had plenty of thrust in the centre and Mike Kilgannon playing his first game of the season hardly put a foot wrong at fullback.
With Wirral already leading 27-3 and their speedy backs in full flow it was easy to fear the worst for Beverley as halftime approached. But in added time Beverley found some hope with a nicely worked try. A series of pick and drives by the pack near the home line ended with the ball being moved wide and Kilgannon going over for an unconverted try.
Beverley had the advantage of the slope in the second half but quickly conceded another home try by substitute number eight Colin Dyer. Five minutes later Beverley lost the ball going forward and with the referee playing the advantage Sheldon raced over in the corner for a sixth home try which Harvey converted.
Then came the arrival of McKay and the fightback. Tupai made a fine break in midfield and sent Bussey over for a try. Two minutes later he repeated it to put wing Tom Shires clear. Shires lost his footing but the ball was recycled and Bussey burst through for his second try. Duboulay's two conversions brought Beverley to 39-22.
Another try would at least give Beverley a four try bonus point and they duly got it with time running out when more forward pressure brought a try for substitute George Rayner which Duboulay converted from the touchline.
In the end it was a brave effort by Beverley but at no stage did they look like winning. Wirral were big, fast, and well organised and for side sitting second bottom probably playing above themselves.
All is not lost for Beverley. They are largely a young inexperienced side. There is no lack of potential quality there and confidence will come. But given the relative league positions of these two sides this was a fixture they would have hoped to win if they are not to get cast adrift. And McKay surely must be persuaded not to waste any more afternoons remaining on the bench.
Final Score : Wirral 39 Beverley RUFC 39 | Reported by John Nursey