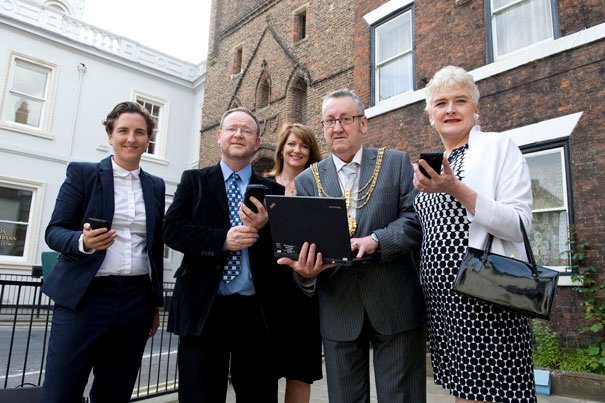 Beverley residents and others visiting the medieval market town this summer will be able to stay connected thanks to free high-speed WiFi access to be installed by KC throughout the town centre later this month.
Thousands of visitors are expected to flock to Beverley's festivals over the summer months. And with its thriving town centre with restaurants, bars and cafes, Beverley Town Council wanted to ensure that residents and visitors alike can get online and stay connected.
The high-speed WiFi being delivered by KC will be available across the town centre, from the North Bar down through Toll Gavel and Butcher Row.
Helen Watson, Beverley Town Council's Town Clerk, said: "Beverley is not only steeped in history and blessed with some stunning historic attractions but also offers a string of festivals and events throughout the summer which draw many people to the town.
These visitors and our local residents are increasingly carrying laptops, tablets and smartphones and want to be able to get online. So we set about finding a solution that would give Beverley the best possible deal and quality of service.
"Providing public access WiFi requires a lot of investment but despite the budget cuts that all local councils have seen in recent years we were determined to deliver it and KC offered us several options to help us make it achievable."
"We wanted to work with KC on the project as they're a local business and know the town well. The end solution is absolutely ideal as there is no financial investment needed by the Council and customers can get online free. It's only thanks to KC's generosity and investment that this is possible."
Councillor Martin Cox, who was Mayor of Beverley for 2013-14, was also instrumental in the project's success:
"We have a thriving town centre, beautiful parks and open spaces, fascinating museums and one of the most wide-ranging festival programmes run by any town or city in the UK," he said.
"But you have to stay current to continue the success and we want our visitors to be able to use social media to tell the world about the fantastic time they're having in Beverley, so providing WiFi internet access is a huge step forward. It will help to make our local businesses and events more successful and this has the potential to bring in more visitors and investment to the town."
Leanne Gill, public sector account manager at KC Business, said:
"We've seen success with the public WiFi we've installed in Hull city centre, Newland Avenue and Princes Avenue, and we're delighted to be working with Beverley Town Council to give this medieval gem of a market town the same great service."
Town Clerk Helen Watson said:
"If Beverley is to continue its success and capitalise on its unique attractions like the Minster and Beverley Westwood, then we have to keep looking forward whilst ensuring we spend the public's money wisely. KC has enabled us to do this and we hope in time to extend the reach of the WiFi to other areas."
Current Mayor of Beverley Councillor Paul McGrath said:
"It's a real benefit to all in Beverley, and by working together with KC we will help deliver added value."
The WiFi service will be free to use for the first 20 minutes before charges will apply to help cover the cost of providing the service.
Local residents with a KC broadband service can log in to any KC WiFi hotspots free of charge in line with their account usage limits.