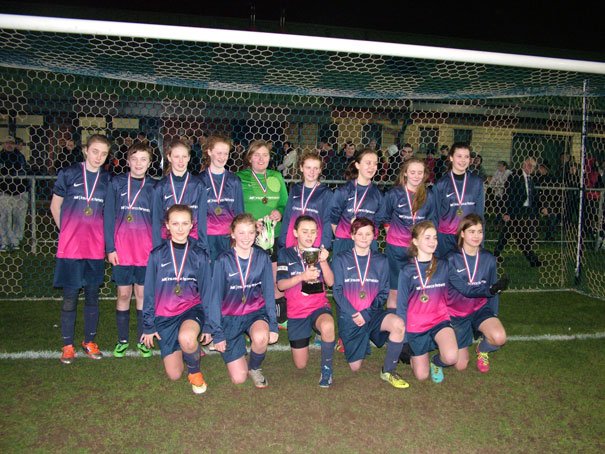 The final of the East Riding Girls Football League County Cup was all set to be a fiercely fought game between two very evenly matched sides.
Despite two league wins over the Hessle Town girls, Mill Lane United went into the tie well aware that on an occasion like this, cup finals can always go either way.
From the kick off it was clear that both teams had come to take home the cup and early exchanges were strong and from end to end. Close to ten minutes passed before Abbie Longley took the ball and ripped through several Hessle players and playing a quality through ball to striker Natalie Bell, who finished off a wonderful passage of play to give Mill Lane the opening goal.
The rest of the first half showed just how even the teams were on the night with both teams defending well but struggling to create any great threat in attack. At the half time whistle both teams returned to the changing rooms under no illusion that this game was over, far from it. At 1-0, the second half surely had a lot to offer the dedicated supporters on the touchline.
The second half started in much the same fashion with both teams knowing that the next goal could well turn the game either way. Once again, it was Mill Lane that made the break though five minutes in when Kim Wards persistence down the right wing gave her the opportunity to create the space to cross the ball into the penalty area where Nat Bell took a touch before slotting the ball under the Hessle keeper, doubling the Mill Lane lead.
With a two-goal cushion, the Mill Lane girls started to relax a little but once again, for long periods the Hessle defence stood strong and quick counter attacks gave opportunities to score, only to be denied by the outstanding Leah Shalgosky in the Mill Lane goal.
The third and final goal of the tie came from another lovely spell of passing play down the right wing. Selflessly played in by double goal scorer Nat Bell, substitute Caitlin Purcell was given just enough time and space to drive home the goal that secured the win.
At the final whistle players and supporters showed their appreciation of a great cup final and the respect that both teams fully deserved. With the runner up and winner's medals presented it was left to Mill Lane captain Abbie Longley and her team mates to lift the cup.
Both teams now turn their attention back to the league with important fixtures coming up in the next few weeks.