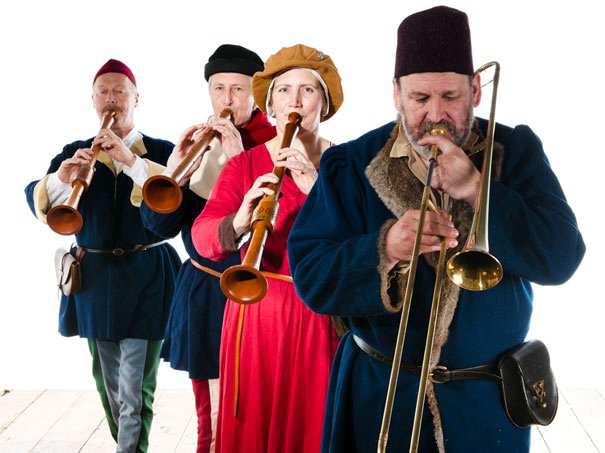 Medieval and Renaissance style musicians York Waits and folk musicians Henry Priestman and Nick Rooke are all set to perform at the Christmas Festival of Food & Drink on Saturday 30th November in Beverley Minster.
The York Waits musicians will be playing a fanfare whilst the Festival is officially opened by Mayor of Beverley, Councillor Martin Cox and Vicar of Beverley Minster, Jeremy Fletcher at 10. 00am, and they will continue to play throughout the morning.
Additionally, York Waits will be giving a talk at 11.00am, giving information regarding the origins and tradition of Waits music in the UK, as musician Tim Bayley explained. He said: "The York Waits are delighted to be appearing again at Beverley Minster as part of the Christmas Food Festival, and will be entertaining in this wonderful acoustic with their "noyse" of shawms and sackbut, bagpipes, pipes and tabors, and other medieval instruments that are depicted in the famous stone minstrel carvings.
"Their repertoire will combine some seasonal, festive compositions, along with 15th century pieces that feature on their forthcoming album of music from the time of Richard III, entitled 'The White Rose and the Red'. This was recorded earlier in the autumn, and local firm, Fairview duplications of North Cave are working hard to secure a release date to coincide with the Food Festival. Interest in this period has been boosted by the discovery last year of King Richard's remains in a car park in Leicester, and the subsequent debate as to whether he should be reburied there, or, in accordance with his own wishes, be brought back to his spiritual home in Yorkshire."
Adding extra flavour to the event, esteemed folk musicians Henry Priestman and his band, and Nick Rooke and his band, will each be playing at regular intervals throughout the afternoon, with their grand finale beginning at 3.030pm. This is a great opportunity for visitors to the Festival to see these highly-acclaimed musicians, as their gig at the Processed Pea at Etton on Monday 2nd December is completely sold-out.
The free to attend Christmas Festival of Food & Drink, is being held inside the Minster from 10.00am til 4.00pm, and it will feature a variety of foods, and drink stalls promoting local producers, as well as cookery demonstrations, food and drink tasting and family entertainment. There will also be a variety of arts and craft stalls.
Refreshments available at the event will include soup, sandwiches and homemade cakes, served in the Minster Parish Rooms.
Town Clerk Helen Watson said: "We are delighted that York Waits, Henry Priestman and Nick Rooke are joining us for this Christmas Festival of Food & Drink. They will provide a wonderful musical backdrop to the proceedings and keep Festival visitors entertained throughout the day.
"We are very much looking forward to the day and hope to see lots of visitors supporting local producers by buying their Christmas gifts and celebration produce at the event."
Helen continued:
"Beverley Town Council's From Field to Table project is looking forward to working in partnership with Beverley Minster, Beverley Folk Festival and local businesses to host the Christmas Festival of Food & Drink. This free to attend event offers something for all the family and truly showcases the very best that Beverley has to offer."