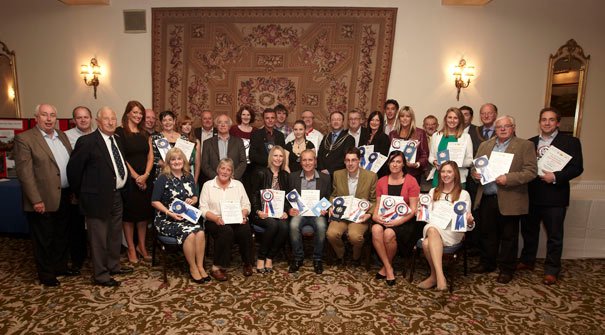 Local food and drink producers have been celebrating their success as the results of the Beverley Food Festival Local Food Awards 2013 are revealed.
Over 70 people, including Mayor of Beverley Cllr Martin Cox, attended a prestigious presentation evening at Beverley Tickton Grange Hotel to hear the results of the Awards, which were announced by guest presenter Jonathan Parker from BBC Radio Humberside, and enjoy an evening to celebrate the very best in local food and drink.
The Local Food Awards are part of the Beverley Food Festival, organised by Beverley Town Council and supported by its Big Lottery Local Food grant-funded 'From Field to Table' project, which will take place on Sunday 6th October, in the town's Saturday Market.
Almost 100 stall holders will showcase their locally grown and reared produce at the event, which is now in its eighth year. Each stall holder had the opportunity to submit their produce to be judged at the Awards.
The winners and runners-up in each of 13 categories of Awards, which varied from fish dishes to sausages and from dairy goods to desserts, were presented with a certificate and rosette, with the winners also receiving a specially engraved trophy.
There were 98 individual items of local food, and drink submitted to be assessed by a team of five judges: Roy Woodcock, food writer, Jonathan Parker, BBC Radio Humberside presenter; Bernard McCoy Curriculum Leader for Catering at Hull College, Helen Watson, Town Clerk and Paul Vinsen, Chairman Hull and East Yorkshire Hospitality Association.
The winner and runner-up for each category will be proudly displaying their Award certificates at their Food Festival stalls, so visitors to the event will have the chance to taste and buy the winning produce.
Categories are: sausage, chutneys and pickles, jams, desserts, dairy, pies, alcoholic drinks, non-alcoholic drinks, meat dishes, baked goods, oils and dressing and fish dishes.
Some additional Awards were also presented. A certificate of Merit in the Dairy category was given to Mr. Moo's for its rhubarb and ginger ice-cream, as it was judged to be of a very high standard.
David Nowell, head chef at Beverley Tickton Grange was presented with a 'From Field to Table' Local Food Champion trophy and certificate in acknowledgement of his dedication to the use and promotion of local produce and producers.
Explaining why David received this special recognition, Helen Watson, Beverley Town Council Clerk said:
"David is at the forefront of promoting local food, its growers and producers. From selecting local produce to be cooked and served at the hotel, to his involvement with the East Riding Local Food Network, David works tirelessly to help support local growers and producers."
"From the very first Beverley Food Festival held in 2006, David and his team at Beverley Tickton Grange have been to be a vital partner, not just in the Awards, but the Food Festival as a whole. We are delighted to have their support once again."
"It is hoped that the success of the Local Food Awards will help to make Beverley and the surrounding rural areas a nationally-recognised area of excellence in local food."