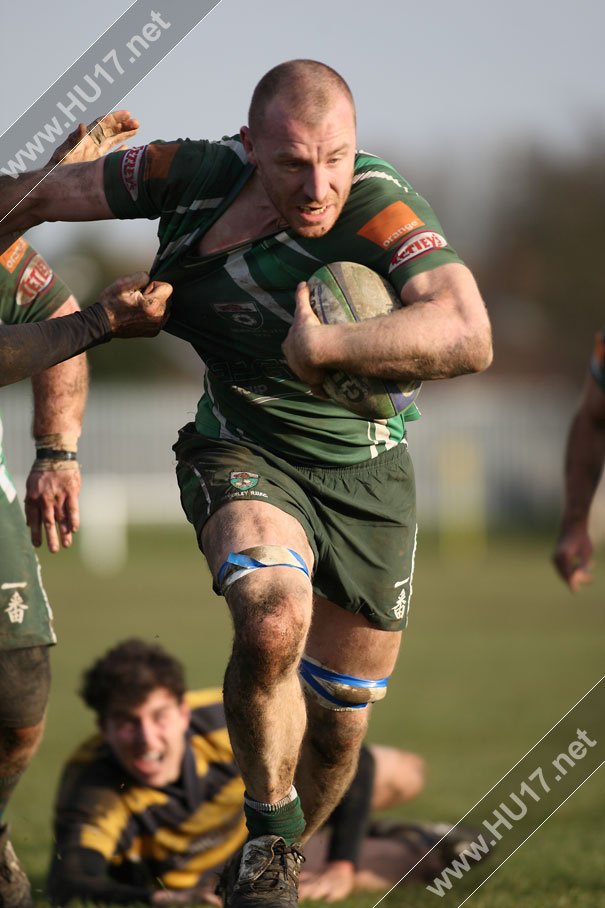 A curiously flat affair which was rather strange given that Beverley RUFC ran in eleven tries, some of them in thrilling fashion. With Darlington's main pitch unavailable the game was moved to a side pitch in rather less than perfect condition and the quality of the game seemed to downgrade accordingly. Somehow it was all very low key, perhaps partly because of the onesided nature of the contest. Darlington had plenty of possession and dominated territory for long periods but they were never really in Beverley's class and could make little of it.
Alex Ogilvie powered his way over after seven minutes to give Beverley the lead and three further tries followed at regular five minute intervals. James Holland went over following a scrum in the corner, Nathan Sharpe ran in from twenty metres after a Darlington pass rebounded directly into his hands, and a reverse pass by Junior Tupai put Tomasi Tanumi over after a flowing move from inside Beverley's twenty two. By the end of the first quarter Beverley had galloped away to 28-0 with a bonus point secured. Phil Duboulay added all four conversions and by the end ten of his eleven conversion attempts had sailed straight between the posts.
Darlington had a good twenty minute spell at the end of the first half. They retained possession well and were seldom out of Beverley territory. But they lacked the speed and cohesion of the visitors and could never really break down a sound Beverley defence. Beverley were far superior too at the breakdown and with the ball in their hands they gave an object lesson in support play and quick movement.
Beverley went into this match with Richard Bussey standing in at scrum half which may have been a slightly risky venture. Bussey is a top player with many fine attributes, but passing the ball is not perhaps one that immediately springs to mind. Yet today at scrum half he slotted in superbly. He linked well with Duboulay, sending out quick flat passes and running powerfully when openings presented themselves.
Within five minutes of the start of the second half Beverley added two more tries. Almost direct from the kick-off Darlington kicked upfield into the Beverley 22 where Lee Birch gathered the ball and set off, romping right through the opposition ranks to touch down for the game's outstanding try. You could sense it coming as soon as the ball was in his hands. Two minutes later Bussey went over after a fine break by Sharpe down the middle and Beverley were 40-0 up.
Tanumi added a sixth after a half break by Holland and then Holland burst away on a fifty metre run to send Leki Atiola in at the corner. Just when Beverley looked like achieving their first clean sheet of the season Darlington prop Joe Cooke got over for a consolation home try five minutes from time.
But Beverley were still not done. When Darlington were penalised for unsportingly kicking the ball away at a lineout Beverley moved the ball across field and Bussey crossed for his second try and Beverley's ninth. With most spectators waiting for a merciful final whistle there was still time for Chris Brant and Atiola to squeeze in two more Beverley tries deep into added time. A nasty blow to the head for Tanumi in a thunderous tackle late on rather put a dampener on proceedings but happily he was able to walk off.
Forgettable though much of the afternoon may have been there was still some good rugby from Beverley. It was a solid all-round team effort. Bussey's performance at scrum half was particularly impressive and Sharpe happily now looks to be fully fit and back at his best. Gavin Gibson, also returning from a long lay-off, is also rapidly making his presence felt again. Another long term absentee, Jerry Barnes, had his moments too when he came off the bench. All in all it was a good day for the league leaders.
Final Score : Darlington RUFC 5  Beverley RUFC 75 | Reported by John Nursey