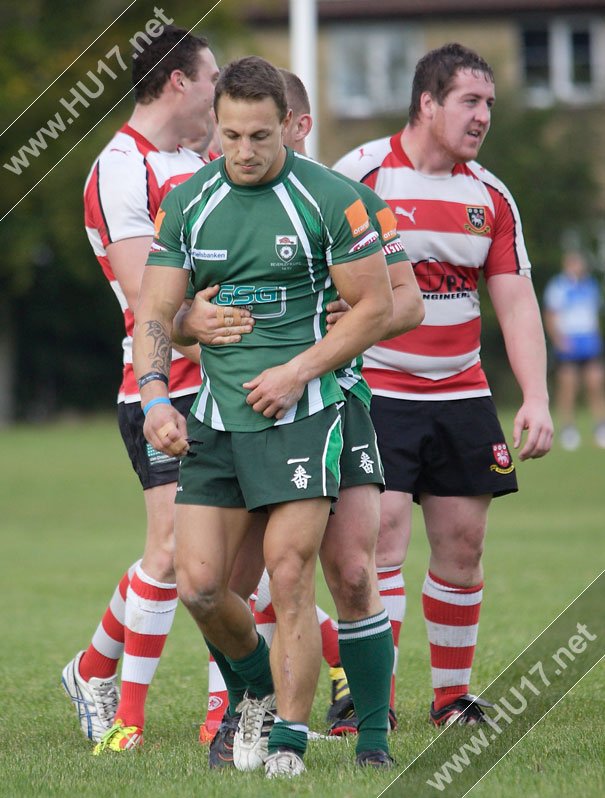 It was almost bound to happen. Beverley RUFC have not won at Moorend in ten years and today was no exception. It was not that Beverley RUFC played particularly badly, although they were certainly well below par, but Cleckheaton were more up for it and deservedly cruised to an eighth home victory from nine games.
For their part Beverley RUFC's cause was not helped by having three or four key forwards missing. It showed alarmingly as they struggled to retain any decent possession all afternoon. Ultimately for them it turned out to be just one of those days which are probably best forgotten.
Cleckheaton ran and tackled strongly throughout and took the game to Beverley RUFC from the kick-off. Runaway league leaders are always sitting targets to be shot at and Cleckheaton went flat out for it. They dominated play from the start even though the Beverley RUFC backline early on looked the more dangerous.
But the supply to the Beverley RUFC backs became more scrappy as the game progressed and it was no surprise when Cleckheaton took the lead on twenty minutes. They won a scrum ten metres out following a crooked Beverley RUFC throw at a line-out and winger Martin Woodhead burst through the middle to touch down. Fly half Iain Gordon slotted the conversion and after that Cleckheaton never really looked back.
Beverley RUFC became increasingly error prone. The throwing-in at line-outs was indifferent all afternoon and numerous opportunities were wasted through dropped catches or wrong decision making.
Several times the ball was hung onto when a pass might have brought dividends. It was clearly going to be one of those days when almost nothing went right. On half an hour Cleckheaton increased their lead with a pushover try from a penalty lineout taking them two scores clear. With halftime approaching Beverley RUFC got more into it.
Richard Bussey with a lovely run down the left nearly got there and Phil Duboulay was pulled down just short after a darting burst through the middle.
12-0 down at halftime it was by no means all over for Beverley RUFC, especially as they had the advantage of a slight slope in the second half. But you felt they would need to up their game considerably if they were going to get anything out of this match. They certainly did play with more cohesion after the break but the home line was rarely threatened and mistakes continued to haunt them.
Duboulay kicked a penalty after ten minutes to get them going and five minutes later Lee Birch raced the length of the pitch to outstrip the home defence and touch down for a wonderful solo try. Only one score in it at 12-8 and at that stage Beverley RUFC looked quite capable of going ahead. But disaster struck again on twenty five minutes.
They failed to clear their lines from a scrum near their own line, lost possession, and Cleckheaton moved the ball with a long overhead pass to right wing James Wilson who touched down in the corner. Gordon kicked the conversion quickly followed by a penalty and realistically at 22-8 that was that.
There was no lack of endeavour by Beverley RUFC but openings were hard to find and Cleckheaton's defence was sound. A yellow card for Junior Tupai for an illegal tackle did not help but in the dying minutes Beverley RUFC did get some reward when Nathan Clarke powered over for a try. A successful conversion would have brought Beverley RUFC a losing bonus point but Duboulay's kick from the touchline went narrowly wide. It just about summed up their day.
Nothing should be taken away from Cleckheaton who played exceptionally well and fully deserved the win. For the first time this season Beverley RUFC were outplayed by a better side on the day. The defeat was certainly not a calamity and Beverley RUFC remain ten points clear at the top of North One East. None the less they cannot afford too many repeats of this if they are to prevent the pursuing pack from closing the gap.
Final Score: Cleckheaton 22  Beverley RUFC 13 | Reported by John Nursey