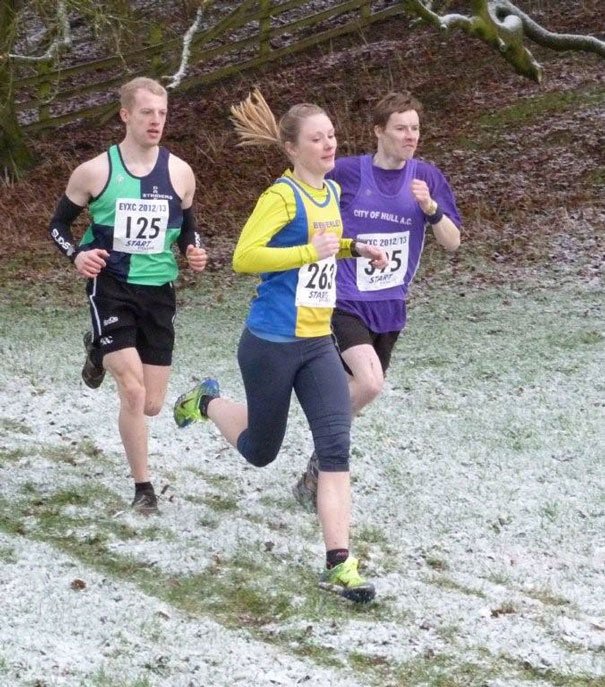 Driffield Striders hosted the fourth race in the East Yorkshire Cross-Country League on the Sledmere Estate last Sunday.
This is a new venue for the league and it attracted a large field of runners eager to make the most of the opportunity to run on private land not normally open to the public.
The scenic course measured approximately 11.5 kilometres and consisted of two-laps on grass or chalk paths with a long steep climb of more than a mile on each lap.  A thin covering of snow made the route even more picturesque but there were also muddy puddles of icy water to contend with.
Beverley Athletic Club fielded a squad of forty runners and Aubrey Morrell was the first of them to finish.  He said: "The venue was absolutely superb!"  After initial reservations about a two-lap course being a bit boring he was pleasantly surprised and commented: "The course had a great mixture of gradual ascents and fast descents with a lovely well packed winding forest track of every runner's dreams."
Morrell finished in fifth place overall in an excellent time of 43:10.  The next five Beverley men to cross the line also scored points for their team.  They were Lewis Holloway (45:17), new member Luke Davison (46:11), Darren Rodmell (46:37), Mark Dalton (46:43) and Darren Edge (46:47).  Beverley's men finished in second place behind City of Hull, who fielded a very strong team with all six counters among the first ten finishers.
For the second consecutive race Beverley's Carla Stansfield was the first lady to complete the course.  She finished in 26th place overall in an impressive 47:06 and 2½ minutes ahead of her nearest rival, Cathy Wood of Bridlington.
In the ladies competition it is the first three from each club who score points and this time it was Laura Egan (53:05) and Sam Allen (55:54) who made up the team with Carla Stansfield.
They finished in third place behind City of Hull and Bridlington.
New members Richard Clarke and Simon Pick made their debut in the league and had a muddy introduction to cross-country running.
With another two races left in the series, teams from City of Hull are leading both the men's and women's leagues.  Beverley's men are second and the ladies are in third place.
There were 168 finishers at Sledmere and the race was won by Stuart Carmichael of City of Hull in 40:56.  The first lady was Carla Stansfield of Beverley AC in 47:06.
Beverley AC finishing times:
Aubrey Morrell 43:10; Lewis Holloway 45:17; Luke Davison 46:11; Darren Rodmell 46:37; Mark Dalton 46:43; Darren Edge 46:47; Carla Stansfield 47:06; Jim McGivern 48:00; Andy Johnson 50:01; Paul Clarke 50:08; Mark Roper 50:51; Andy Collinson 51:06; Andy Tate 51:25; David Millson 51:31; Steve Evins 51:35; Elliott Hakner 52:21; Steve Willietts 52:40; Laura Egan 53:05; Pete Watkinson 54:12; Graeme Pittaway 54:40; Sam Allen 55:54; Emma Greensmith 57:55; Paul Evans 57:58; Simon Pick 58:05; Trevor Turnbull 59:03; Jayne Dale 59:30; Alan Flint 59:30; David Cammies 60:25; Carrie Smith 61:13; Tanwen Gray 61:28; Pete Myers 63:33; Alex Gymer 64:21; Brian Richardson 64:40; Tony Beck 66:54; Pam Atkins 67:13; Steve Hadley 68:23; Christine Hemmingway 69:31; Colin Taylor 72:04; Richard Clarke 72:04; Pete McNally 83:30.
Reported by Kay Farrow | Photos by Mike Atkins