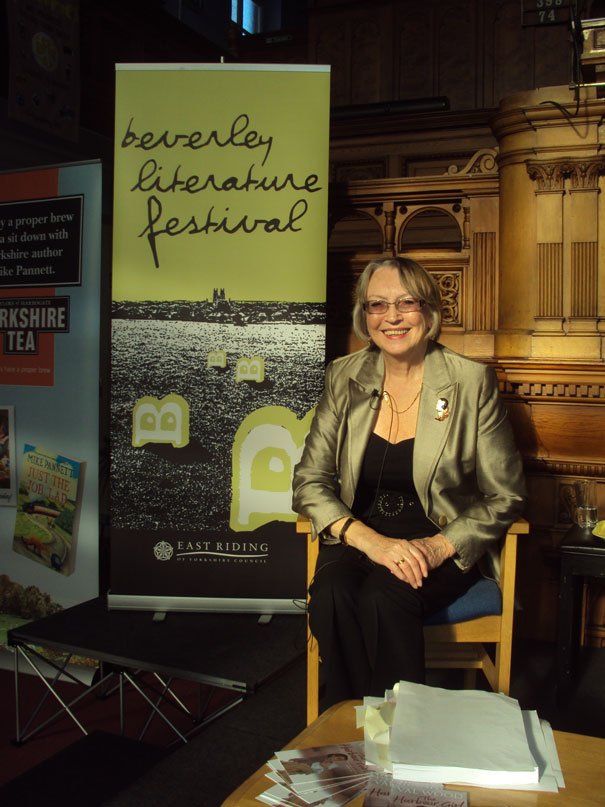 Local author, Val Wood, was number one in East Riding Library Service's top titles last month. Her book, The Harbour Girl, about a young girl struggling to survive and bring up a child in the fishing communities of Scarborough and Hull in the 1880s, beat the latest offerings of internationally best-selling crime writers Lee Child, James Patterson and Harlan Coban.
Val Wood was the seventh most popular adult fiction author borrowed by library users, with the top three spots taken by James Patterson, Nora Roberts and M C Beaton.
Councillor Richard Burton, cabinet portfolio holder for civic wellbeing and culture at East Riding of Yorkshire Council, said: "Most of the writers whose names appear in our top 10 of the most borrowed authors reflect the national trend, but it's good to see local authors also appearing on our list.
"Val Wood is extremely popular, in part, because she writes historical romantic sagas, which many people enjoy reading, but also because her books are set locally and are steeped in local history. People like reading about places they know and because many of her readers have strong ties to the area, their families may have lived here for generations, they particularly love the detail, the street names, local place names and the buildings."
Peter Robinson's crime thriller, Before the Poison, came third in the top 10 titles. Peter is another popular crime writer and local author and divides his time between Yorkshire and Canada. Much of the novel is set in the fictitious Kilnsgate House and is based on a mysterious house he discovered when on a walk near Richmond, North Yorkshire. Peter is also the author of the Inspector Banks Mystery Series, which is now a major TV drama series starring Stephen Tompkinson.
Yorkshire born-and-bred writers/celebrities, Gervase Phinn and Mike Pannett, are in the library service's non-fiction top 20 authors, with Phinn beating off some stiff competition from Jeremy Clarkson, Bill Bryson and Nigella Lawson. Gervase Phinn and Mike Pannett both write extremely popular autobiographical novels based on their own life experiences, Phinn as an inspector of schools and Pannett as a local bobby.
Dorcas Taylor, director of Wordquake, East Riding Library Service's acclaimed project that organises its two major literary festivals, Beverley Literature Festival and Bridlington Poetry Festival, recently appeared on BBC Radio 4's Open Book programme, alongside top author M C Beaton, to discuss regional differences in library borrowing.
She said: "Other writers with links to Yorkshire, like James Herriot and Nicholas Rhea, who wrote the Constable series of books that inspired the TV series, Heartbeat, are always popular with our readers, but there are lots of contemporary writers from Yorkshire who are just as well-liked. Kate Atkinson is from York, Joanne Harris, who wrote Chocolat, is from Barnsley and best-selling crime writer, David Hewson, who has just published a novel based on the Danish TV crime series, The Killing, is from Bridlingon.
"So it doesn't matter which part of Yorkshire they are from – if they're from Yorkshire, they're from Yorkshire."
East Riding Library Service is always keen to promote local writers and often involves them in its events. Beverley Literature Festival and Bridlington Poetry Festival always include Yorkshire-based authors and poets in their Festival line-ups.
Dorcas said: "Events which have a local or regional slant are always well-attended so there is a lot of public interest. Not only is it good for locally-based writers to have the opportunity to promote themselves and their work, it can also be inspirational for the audience."