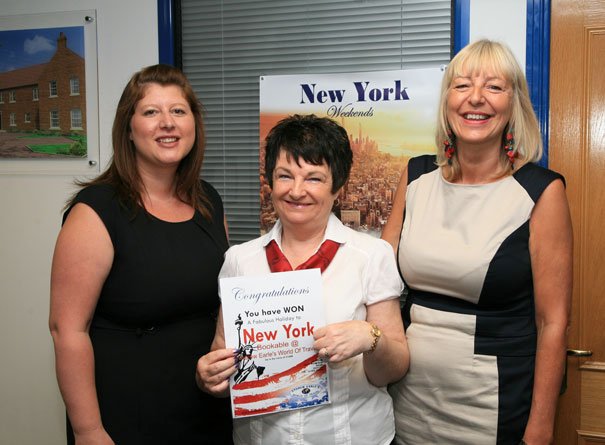 While some people say it with flowers – Linden Homes has decided to thank its top performing staff with a fabulous trip to New York!
Hard-working recipient of the weekend in the Big Apple is sales executive Ellie Just, from the St Nicholasgate development in Beverley.
Ellie was awarded the prize at a presentation by Linden Homes bosses, as winner of a competition based on the amount of business and number of house sales she achieved within the last financial year.
Ellie's success has effectively led to around £4 million in revenue for the business.
And as the trip is for two people, Ellie will be sharing the prize with colleague Sandra Longthorn – who is the part time sales executive at St Nicholasgate,
Ellie said: "I'm completely over the moon and absolutely thrilled to have contributed so much to the business by simply doing a job I love so much – and to receive this wonderful prize as a result.
"Sandra and myself are so lucky to be working at such a wonderful development, where the existing residents are so delightful and the new homes are fabulous and a dream to sell."
Sales director Steve Woomble said: "It has given us great pleasure to present this richly-deserved prize to Ellie in recognition of her tremendous sales achievement."
Once complete, the already highly regarded St Nicholasgate development will boast 130 new homes through a mix of two-, three- and four-bedroom styles to appeal to everyone from single first-time purchasers to growing families.
Homes are currently priced from £154,950 to £249,950 and Linden Homes is offering a range of incentives at the development, including Part Exchange and the Linden Assist scheme to help those moving home.
The show home and sales and marketing suite are open daily from 10.30am to 5.00pm. Alternatively, contact the sales team on 01482 863711.
These new homes are located close to the historic town centre at Beverley, just eight miles north of Hull and within easy commuting distance of Grimsby, York and destinations along the M62.
There are a host of useful shops and amenities close to home, too, and it's not far from St Nicholasgate to the Yorkshire coastline or to the North York Moors National Park