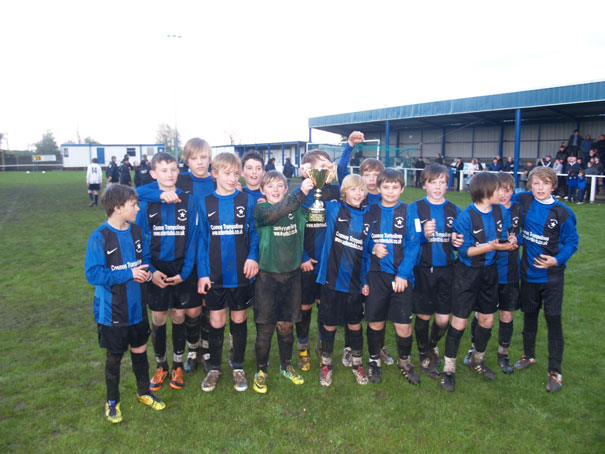 A bumper crowd and a rain deluge greeted both teams as they took to the pitch to play the re-arranged U13 Hull Boys Sunday Football League Plate Final.
Pitch conditions were expected to be greasy due to the recent poor weather and this impacted the way both teams played their game. Referee Steve Ancliff had his hands full as in the early stages players from both sides ran into each other seeking grip and ball possession.
Sproatley settled well and played some great long balls to set the forwards free at the back James Weldon and Joe Hird coped well snuffing out the Sproatley attack. Beverley keeper Lewis Richardson saved well in the early stages first from a cross field shot and then from a free kick that spun off the wet pitch toward goal. Later in the half Beverley began to gain possession with James Busby, Liam Lawson and Joe Wilson combining well shifting the ball wide to Tom Bruce and Ben Hearfield.
Beverley Whitestar created a few chances from the dominant possession and Dan Baillie and Dennis Bailey both going close. The key for Sproatley was well organised tight defence and anything getting through was well saved by the keeper. Half Time stalemate at 0 – 0. The second half started well for Sproatley and an early chance one on one with the keeper was tipped around the post. Beverley added Ollie Baldwin whom combined well with the roving Will Harrison and Baldwin's mazy run forced a corner. Liam Lawson found the ball back at his feet at the edge of the box and he struck an unstoppable shot to give Beverley the lead.
Beverley were then strong with Nick Moody keeping possession well feeding Charlie Rowbotham who played a few great long balls. From a lovely knock forward Bailey was released for Beverley and struck goal to give the Rams a two nil lead. Sproatley rallied and began to cause nervous Beverley trouble, a free kick was awarded outside the area and a fine strike could only be parried by the Beverley keeper before the Sproatley forward pounced to gain their reward.
Sproatley created corners and went close before a fine long ball from midfield by Beverley's Dan Baillie set his strike partner on goal to add a third for Beverley. This was a fine competitive game played out by two well organised teams a credit to youth football. Final score 3 – 1 to Beverley.