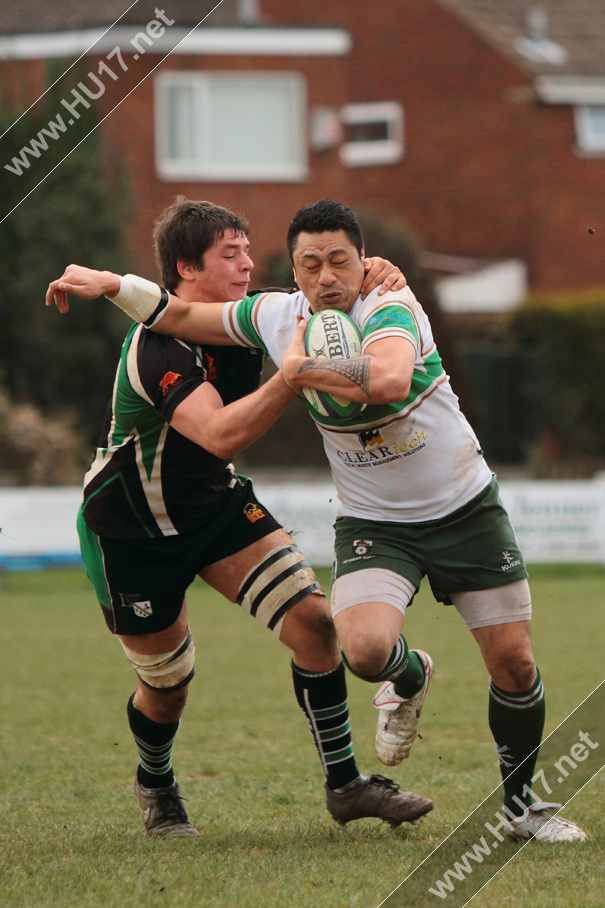 Another disappointing day for Beverley RUFC.  With the clubs below them rapidly closing the gap both these sides needed a win to breathe a bit easier, Beverley RUFC especially.
Sadly Beverley RUFC carried on where they left off last week and were again soundly beaten.  The result is that they are now firmly in the relegation mix.  Particularly worrying is that at the moment they look rudderless and a pale shadow of the side that played so well earlier in the season.  Today they lacked any co-ordination or imagination and appeared to have little idea of what their game plan was, if indeed they had one.
Lymm in contrast were up for it and knew exactly what they were about.  They moved the ball slickly and were yards faster than Beverley RUFC in all aspects of play.  Time after time only a careless final pass prevented them taking the lead.  Somehow Beverley RUFC managed to hold out until the game was in its second quarter.  The opening score when it came followed an all too familiar pattern.  Instead of clearing their lines Beverley RUFC fiddled about and tried to grind their way out of their own 22.  When they were eventually forced into a hurried clearance the kick was charged down and fly half Joe Knowles merely had to touch down for a simple try which Luke Emmitt converted.
During the first half Beverley RUFC were seldom in Lymm territory and when they were they rarely looked like scoring.  Whenever they got in a good position they invariably kicked the ball away or found some other way to waste possession.  Sam Atiola did make one spirited run up the middle and Junior Tupai made a lovely break which should have brought a try, but with the option of putting in winger Anthony Spence or going on himself he aimlessly kicked the ball into touch.  For Beverley RUFC's day it was just about par for the course.
Two minutes before the interval winger David Williamson went over in the corner to give Lymm a 12-0 halftime lead.  It was Beverley RUFC's good fortune that it was not a good deal greater.  The home pack stuck at it with Gavin Gibson in particular putting himself about to good effect.
But they could seldom make much ground and delivery from the base of the scrum was far too often delayed when a quick pass out was needed.
A reluctance to offload the ball quickly and over-elaboration in midfield was again a bugbear for Beverley RUFC.  It never got them anywhere and only ensured that Beverley RUFC's speedy wingers never saw the ball.
In the second half Spence and Glen Walden did get a bit more ball although seldom in promising situations.  Both wings showed plenty of pace when they had it and looked the most likely try scorers.  Beverley RUFC certainly had far more of the territory and possession after the break but they threatened little.  On the other hand whenever Lymm got within striking distance they helped themselves to points.  Hooker Adam Bray, Joe Knowles, and winger Jack Johnstone each made the most of poor tackling to cross for converted tries.
David Worrall with a nice break eventually put Walden in for a try which Beverley RUFC probably deserved for a fairly spirited second half, and late on substitute James McKay added a second.  Walden has now scored four of the only five tries scored by Beverley RUFC wings all season.
But the game as a contest was well over by then and the ten points were no more than a token consolation.  Quite where Beverley RUFC go from here is hard to see.  Only one point now separates them from second bottom side Middlesborough and they need a rapid turn round of form if relegation is to be avoided.  They are a better side than their recent displays suggest and four of their remaining six fixtures are against sides below them.
All is by no means lost but they badly need to rediscover their early season form.  And pretty quickly.
Final Score: Beverley RUFC 10 Lymm 33 | Reported by John Nursey
HU17.net Picture Gallery: Click on the thumbnail picture below to enlarge the image to full size
HU17.net Picture Gallery: Click on the thumbnail picture below to enlarge the image to full size