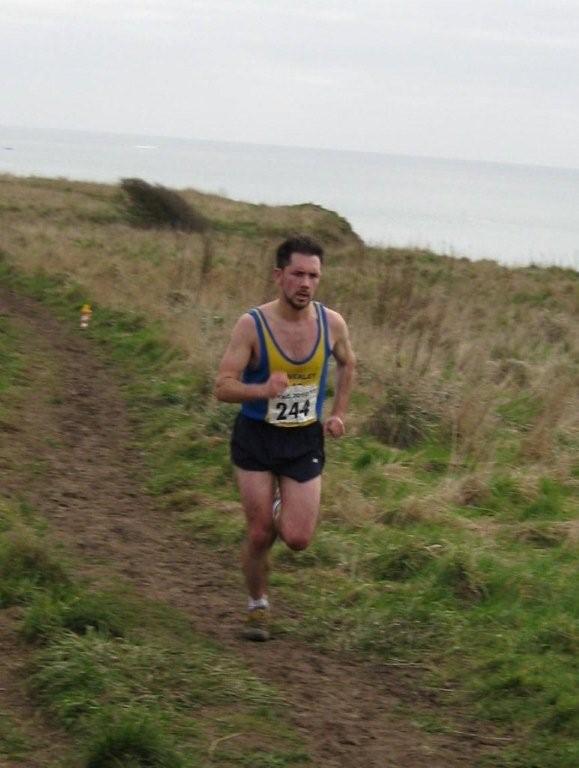 The final race of the 2010 / 2011 East Yorkshire Cross-Country League took place at Sewerby on Sunday.
With only a few points separating the top 3 clubs, Beverley Athletic Club, City of Hull and Scarborough, in both the men's and ladies' team competitions, there was a lot at stake.
Despite some notable absentees there was a good turnout from Beverley Athletic Club and the men managed to overtake City of Hull to finish second in the league behind Scarborough.  In the ladies competition City of Hull retained their lead and finished in first place with Beverley in second place and Scarborough third.
Matt Chadwick has had a brilliant first season with Beverley and was the first Beverley runner to finish in all races.  Despite a slight thigh strain which caused him to miss the inter-counties cross-country championships last Saturday he finished in fifth place at Sewerby.  Roger Tomlin, Andy Johnson, Neil Bant, Stuart Little and David Millson made up the team.
At the awards ceremony after the race Chadwick received the prize for fourth place overall in the league.  Brian Richardson won the V65 award and several Beverley athletes were awarded medals for second place in their age category: Andy Johnson V40, Pete Watkinson V55 and Pete Myers V60.
Beverley ladies performed well at Sewerby and claimed fifth, sixth, seventh and eighth positions.  Julie Donald, Clare Bracken and Sam Allen were the counters in the team competition with new mum Carrie Smith making a comeback and finishing in eighth place.
Four Beverley ladies completed all six races in the series.  Clare Bracken was awarded a medal for third place in the league.  Sam Allen finished in fourth place and won the award for second L35.  Pam Atkins had competed in the 25 mile Rudolph's Romp challenge event the previous day and despite feeling tired was determined to complete the final race of the cross-country league.  She was rewarded with first prize in the L60 category.  It was Jo Dewar's first cross-country series and she was awarded a medal for second place in the L55 category.
It was a busy weekend for Julie Donald who had competed in the inter-county cross-country championships the previous day in Birmingham.  "Two races in one weekend was testing," she admitted, "but missing Sewerby was not an option as I knew I had to be there to help secure the ladies' team placing."  A recent convert to cross-country, Donald ran the last four races in the league and always finished among the top eight ladies.  She has gained valuable experience this year and is already looking forward to competing again next year.
The race at Sewerby was won by Danny Schofield of Scarborough AC in 31.14.  The first lady was Louise Brown also of Scarborough in 34.28.
Pictures by Mike Atkins, Roy Tomlin and Brian Richardson Reported by Kay Farrow
Beverley Athletic Club finishing times:
Matt Chadwick 34.03; Roger Tomlin 35.23; Andy Johnson 36.34; Neil Bant 36.40; Stuart Little 37.42; David Millson 38.20; Steve Evins 39.10; Ian Husband 39.39; Andy Tate 40.07; Paul Clarke 40.36; Steve Williets 40.58; Pete Watkinson 41.30; Julie Donald 42.38; Clare Bracken 43.40; Sam Allen 43.55; Carrie Smith 44.10; Jayne Dale 45.42; Helen Storr 46.43; Adrian Holland 46.59; Kate Ladell 47.09; Pete Myers 47.15; Justine Anderson 48.28; Bill Grieve 50.13; Jo Dewar 50.22; Colin Sleight 50.24; Pam Atkins 56.18; Elaine Julian 58.53; Victoria Evins 58.53.
After the presentation of prizes in the East Yorkshire XC League, Beverley AC recognised the achievements of members in a wider range of cross-country races in the 2010 / 2011 season with the award of individual trophies and medals.  As well as earning points from league races, runners were awarded bonus points for taking part in the county, northern and national championships.
Amongst the men, Matt Chadwick was a clear winner and was proud to receive the trophy as the new men's champion.  Andy Johnson was runner-up.  Clare Bracken is the new ladies' champion and Kate Ladell was runner-up.
Medals were also awarded to veterans as follows:
Men
M40    Andy Johnson
M45    Andy Tate
M50    Bill Grieve
M55    Pete Watkinson
M60    Pete Myers
M65    Brian Richardson
Ladies
L35    Sam Allen
L40    Julie Donald
L45    Helen Storr
L50    Jayne Dale
L55     Jo Dewar
L60    Pam Atkins