A ring rusty Molescroft completed a league double over FC Ridings despite making hard work of the game in the second half after racing into a 4-0 lead in the first 45 minutes.
After seven weeks off Molescroft Rangers could be forgiven for being slow to start but it was anything but as they quickly took the lead with Nicholson scoring from 25 yards courtesy of a well paced free kick.  Cue a period of sustained pressure but it took until the 30th minute for Molescroft to double their lead with Sam Dixon scoring from the edge of the area, with a well placed Samir Nasr-esque shot into the bottom corner .
The long break seemed to have taken its toll on both teams but some players seemed to have made more of the Christmas break than others with Moley top scorer Pikey Spruce being one of those who may have had one too many clay baked hedgehogs and this seemed to weigh heavy around his middle along with the pressure of continuing his fine scoring form of a goal in every game.
The pressure of carrying on his run was finally lifted on 35 minutes when a shot from Pardoe crashed against the bar leaving Spruce with a tap in from a distance described in the pub afterwards as all of a budgies tongue out.  This seemed to break Ridings and Molescroft continued to press forward and they scored their fourth of the half with Nicholson scoring his second free kick from outside of the box.
Half time seemed to take the steam out of Moleys sails and they struggled to get back into the game allowing Ridings back in the game soon after the restart.  The second half was pretty much a non event for Moley and they gifted Ridings a second with twenty five minutes to go with stand in keeper and part time porn star Dixon fumbling an easy save to give the away side some hope.
Ridings pressed forward sensing a way back into the game but Moley stuck to their task and with man of the match Phillips coolly intercepting most attacks they saw out the remainder of the game.  After the match the players agreed it was a good three points considering the inactivity over the last few weeks, especially considering assistant recreational soccer executive (A.R.S.E.) James Radley was missing, busy preparing himself to support his team Newcastle play Stevenage in what was described as a "bye" by himself (how wrong he was) and also keeper Bryce who was away in Saudi Arabia investigating reports of a Scottish Al Queda Cell being formed over there.
Back in the changing rooms keeper Dixon tried to apologise for his error by soaping centre midfielder Coates's bike up to give it a wash, a thoughtful move considering all the paint corroding salt on the roads at this time of the year, soured only by the fact that Dixon was actually nude at the time and the soap used was on his body!   Next week sees Molescroft travel to Skidby Millers as they hope to consolidate their place in the top three.
Final score – Molescroft Rangers 4 FC Ridings 2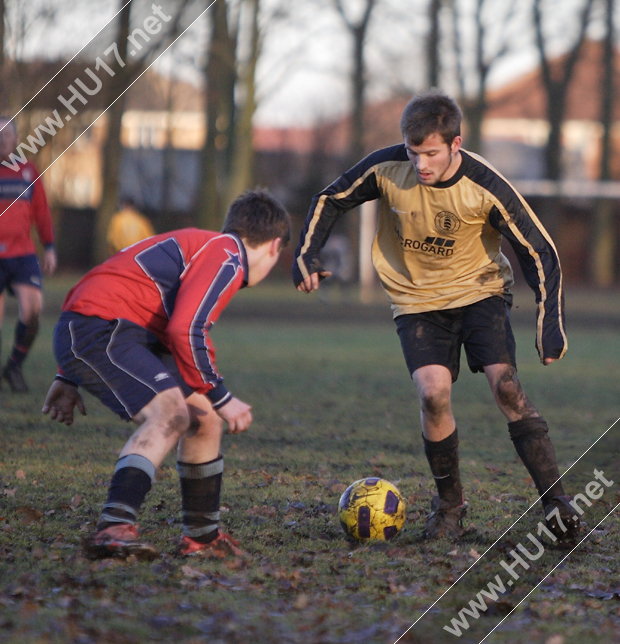 HU17.net Picture Gallery: Click on the thumbnail picture below to enlarge the image to full size
HU17.net Picture Gallery: Click on the thumbnail picture below to enlarge the image to full size