Only driving rain prevented this from being a real cracker.  Fixtures between these two sides nearly always produce close hard fought encounters and this one promised to be no exception.  In the end it proved to be Beverley's day, fairly comfortably as it turned out.  The game was played in a great spirit.  Both sides gave it everything and made light of the conditions but Beverley were that bit quicker about the field and had the edge both up front and in the backs.  Penrith were hampered by the loss of two of their key runners, centre David Barton and full back Gavin Cartmell, who both went off injured, but the final outcome of the match was almost certainly unaffected, even if Beverley's margin of victory might perhaps have been a bit less emphatic.
From the start both sides showed their intent to make the most of a speedy backline.  Beverley had more of the early possession and moved the ball about crisply but Penrith whenever they broke clear looked odds on to score.  Only some superb last-ditch Beverley tackling, notably by Francis Pickering and Phil Dale, kept them out.  One tackle by Dale in the corner after Cartmell had run clear from halfway was out of the top drawer.
After ten minutes Beverley took the lead when Junior Tupai broke out from his own 22 and set up a flowing phase of play which ended with John Stephenson touching down in the corner.  Despite the onset of rain the tempo of the game never let up.  Each side had plenty of chances and it was something of a surprise that after half an hour Beverley's early try still remained the only score.  Then from a long range Penrith penalty attempt by fly half Steven Wood which dropped just short Beverley swept straight upfield.  Glen Walden was bundled into touch as he went for the corner and from the Beverley scrum, given for an infringement at the line-out, Tupai threaded his way through for a second Beverley try to take it to 10-0 at the interval.
Five minutes into the second half and the result was suddenly as good as settled.  Almost direct from the restart Phil Duboulay added a penalty and then Chris Infield, up in support of the galloping Walden down the touchline, kicked through when the ball went loose and won the race for the touchdown.  Duboulay's conversion from wide out took it to 20-0.  After that there was realistically no way back for Penrith.
They had plenty of possession and their forwards drove hard at the Beverley defence but the home defending was quite outstanding.  Penrith had no-one who could quite match the class of Tupai in the Beverley centre.  Much of Beverley's good work and midfield superiority stemmed either directly from him or from Duboulay.  Chris Harding slotted in well alongside Tupai, and Walden and Goran Jelencic made their presence felt down the wings, while Phil Dale never put a foot wrong at fullback.  But it was up front that Beverley had perhaps the most cause for satisfaction.  The front five of Pickering, Mark Hatfield, Martin Shaw, Gavin Gibson, and Matty Adams as a unit were outstanding, the front three especially getting in some hefty hits in defence.  So was the back row of Stephenson, James McKay and skipper David Worrall.  In Stephenson Beverley look as though they have at last found somebody capable of throwing in accurately at the lineout.
With ten minutes remaining Infield, who was having his most impressive game for Beverley, sprinted through to earn a bonus point with a fourth try.  Duboulay's conversion and a penalty with the last action of the game brought Beverley their biggest victory of the season.  They needed this.  The margin of victory has considerably improved their match points difference and the win has taken them to within four points of Sandal in ninth.  All in all it was without doubt a thoroughly satisfying day for Beverley.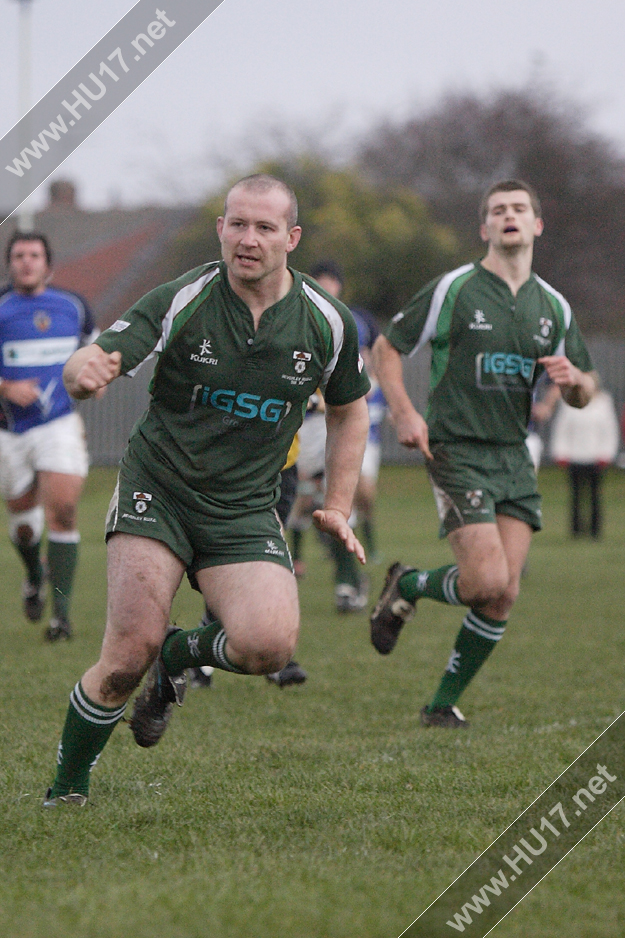 HU17.net Picture Gallery: Click on the thumbnail picture below to enlarge the image to full size
HU17.net Picture Gallery: Click on the thumbnail picture below to enlarge the image to full size