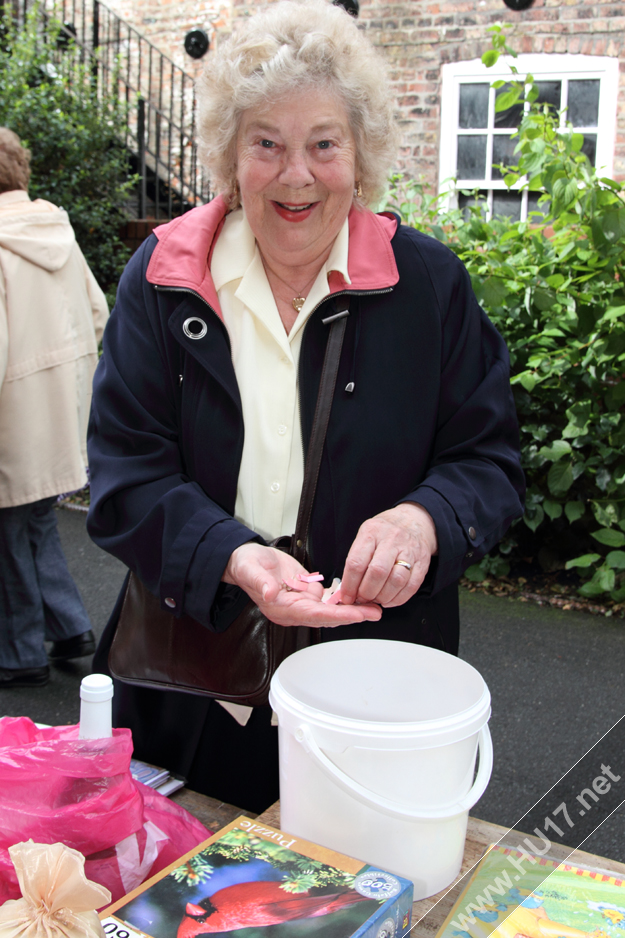 The Jacob's Well Charity, usually housed in the Christian Bookshop on Ladygate in Beverley, braved the late summer showers to set up a bookstall and tombola outside Toll Gavel United Church, and raised a staggering £550.
Beryl Beynon, Medical Director of the charity and organiser of the outdoor book sale, told HU17.net  "Despite having to stop twice for the bad weather, we carried on for the rest of the day. We were very pleased with how things went, considering that we nearly did not set up at all due to the showery rain."
Jacob's Well Appeal has been raising money since 1982.  Originally set up to send urgently needed medical supplies and equipment to hospitals in Poland, the charity now provides medial relief to those who need it in Eastern Europe, Asia and Africa, promoting and supporting medical research and education.  Founder, Beverley GP Beryl Beynon and her husband Dr Peter Beynon personally ensure that the money they raise goes to the people most in need.  They are now in their mid-seventies, and celebrated their Golden Wedding earlier this year, but they are not thinking of slowing down yet.
Last week  the Jacob's Well Appeal raised over £1200 to help the flood victims in Pakistan, and today a further £45 was donated to that incredible total during the Book Sale.
HU17.net Picture Gallery: Click on the thumbnail picture below to enlarge the image to full size
HU17.net Picture Gallery: Click on the thumbnail picture below to enlarge the image to full size