Only two games this week in the premiership as Shanghi have withdrawn from the league (they have been replaced by a new team who start on Wed 19 May).
The first game saw last season top two go head to head. The usual tight match ensued, and once again it was a jinking touch and sweet finish from Danny Moore which saw Waterside take the points over Weighton.
PSV Hangover maintained their 100% record with a 2 v 0 victory over ONE10. The game was settled on two penalties, which referee Jack Grieve awarded for ONE10 players entering their own area. Ben Franklin held his nerve twice to slot to sweet penos and take the points for his boys.
Premier League
Results Wed 5 May: Weighton Utd 0 v 1 Waterside Utd; ONE10 0 v 2 PSV Hangover; Reservoir Trogs p v p BarceHullona
Fixtures Wed 12 May: Waterside v PSV Hangover 7pm; BarceHullona v ONE10 7pm; Weighton Utd v Reservoir Trogs 7pm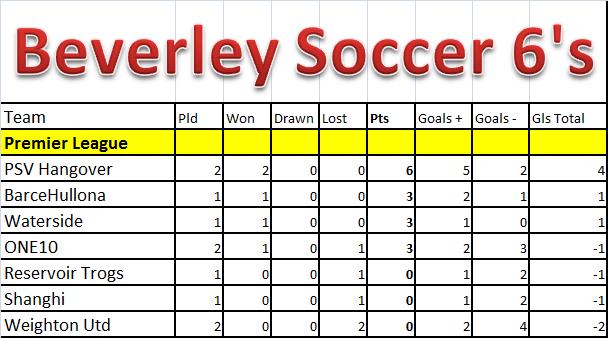 Borussia continued their improved form by taking their second win on the bounce, and recording more points this season than in the whole of last season! Borussia now have a week off while NVA take on new boys MW Sunday, who are also looking good…
The boys from Weighton's Sunday team recorded their first victory with a comfortable win over Angel. Craig Eastwood, deputising in the angel goal, had his fingers stung a few times and made two or three great saves to keep the score down.
In the final game AJ's and Deportivo played out what was always going to be a draw on paper. Both of these sides are draw specialists and have never been seperated by more than one goal in three season. The returning Lockwood bagged for Depo, while AJ's new boy Usher finished nicely for the green & whites
Division One
Results Wed 5 May: Angel 0 v 2 MW Sunday; Borussia Teeth 2 v 0 Not Very Athletic; AJ's 1 v 1 Deportivo
Fixtures Wed 12 May: AJ's v Angel 7:30pm; Beverley Knights v Deportivo 7:30pm; Not Very Athletic v MW Sunday 7:30pm; Borussia Teeth – No Game