Action from the rugby match between Beverley RUFC and Stockport tha was played at Beaver Park in Beverley that Bevelrey won 24 points to 19. (full match report to Below)
In a thrilling game, handled superbly by referee Karl Kirkpatrick, Beverley RUFC achieved their best result of the season in defeating second placed Stockport.  The fact that the Beverley RUFC pack was heavily out-muscled all afternoon made the performance all the more commendable.  Beverley RUFC might have had greater victories this season but almost certainly none quite as satisfying.
Stockport with only two previous defeats quickly showed why they have been the surprise side of National Division Three North this season.  Their well drilled pack was quickly dominating the set pieces and the ball was being moved about crisply in the backs.  Within the first five minutes Phil Duboulay for Beverley RUFC and Matt Bevvington for Stockport had exchanged penalties but Stockport were already beginning to dominate the game.  They were getting plenty of possession and Bevvington at fly half was increasingly dictating the play.  When he dropped a goal after twenty five minutes to put them into the lead it was no less than Stockport deserved.
The lightweight Beverley RUFC forwards might get pushed around in the set pieces – and their make-shift front row certainly had a pretty torrid time of it today – but they seldom lack for effort.  They gave as good as they got in the loose and five minutes from halftime the game was turned on its head by a superb Beverley RUFC try.  Skipper David Worrall taking the ball at speed on halfway threaded his way through the entire Stockport defence to touch down and put Beverley RUFC ahead.  It was exhilarating stuff and this alone made an afternoon spent in the bitter cold on the touchline worthwhile.
With Duboulay adding the conversion Beverley RUFC turned round 10-6 ahead but Stockport started the second half as vigorously they had the first.  They pounded the home line and nosed in front with a try in the corner from winger Greg Newton.  The lead was again short-lived.  It was already becoming apparent that for all their possession the Stockport backs did not have quite the same cutting edge as that carried by their Beverley RUFC counterparts.  Junior Tupai and Richard Bussey are beginning to develop into a potent pairing in the Beverley RUFC centre and Tupai in particular frequently had the visitors' in all sorts of trouble.  One lovely break by Tupai down the right sent Bussey streaking away for Beverley RUFC's second try which Duboulay converted to take them 17-11 ahead.
In Worrall, Craig Hancock, and Tony Riby-French Beverley RUFC had a lively back row and the return of Hancock has clearly beefed up their effectiveness in the line-outs.  The livewire Phil Dale at scrum half and Duboulay were also functioning impressively at halfback.  Tupai with a nice shimmy broke clear down the middle and Hancock was on hand to cross for a third Beverley RUFC try which Duboulay converted.  With three-quarters of the game gone Beverley RUFC at 24-11 looked to be almost home and dry.
But Stockport are not second in the table for nothing and they hit back strongly.  Only dogged defending somehow keep them out as they threw everything at Beverley RUFC in an effort to get back into it.  Eventually the pressure told and prop Tom Cruse got over for a second Stockport try.  The conversion would have taken Stockport to within a converted try of drawing level but Bevvington's kick went wide.  A straightforward penalty which would have brought them to within five points then rebounded from the post as Stockport's hopes began to fade.  It was a thrilling last ten minutes which developed into a rearguard action for Beverley RUFC.  But their defence held firm and they ended the day with a fine victory which continues their climb up the table.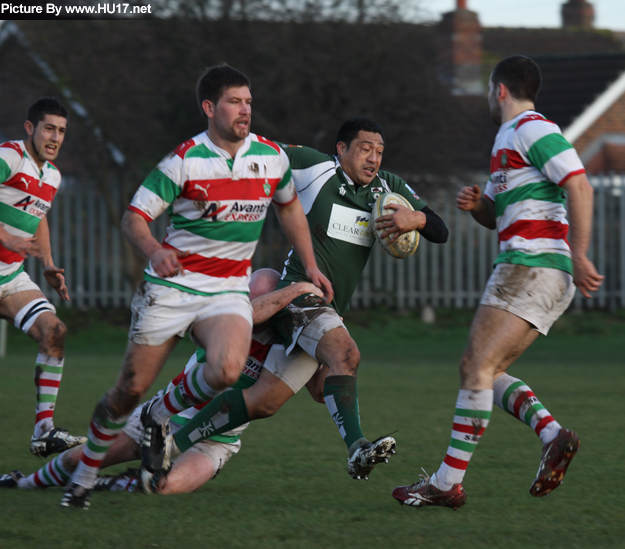 HU17.net Picture Gallery: Click on the thumbnail picture below to enlarge the image to full size
HU17.net Picture Gallery: Click on the thumbnail picture below to enlarge the image to full size