For over 10 years Beverley Chamber Choir has been delighting audiences with high quality performances both over the Christmas and Easter periods.
Christmas this year, however, will be extra special, not only is it the first Christmas Concert under the direction of their new director, Mark Pybus, but the choir will also be joined, for the first time, by a full traditional Baroque Orchestra including the world class Baroque trumpeter Crispian Steele-Perkins.
The Baroque Orchestra all playing period instruments will join the choir in three of J S Bach's most popular pieces for the Christmas Period.including parts of the Christmas Oratorio, The Magnificat and the Wachet Auf Cantata.
The concert in Beverley Minster will take place on Saturday 12th December at 7.30pm, tickets priced at £12 and £8 available from Beverley Tourist Information.
Mark Pybus was appointed as Music Director for the choir in May this year. He started his musical education as a chorister of Beverley Minster. As a critically acclaimed organist he has performed in many cathedrals, abbeys and churches both in the UK and abroad. He also performs regularly in the USA and last summer performed to critical acclaim at the International Messiaen Festival in Copenhagen. As a continuo player he has performed with several renowned groups including the BT Scottish Ensemble.
Mark is also well-known throughout the country as a choral clinician and has directed many events for the Royal School of Church Music.
He is currently Director of Music at Hymers College in Hull where he leads a large and thriving music department of national repute.
Crispian Steele-Perkins is a trumpet soloist who is world renowned for the quality of his performances and wide ranging musical styles. His interest in collecting and restoring antique trumpets led him to begin performing on them – appropriately you may have heard Crispian's playing introducing the BBC's "Antique Roadshow". His unique performances and recordings on genuine historic instruments led Continuo Magazine to describe him as " the world's leading player of the baroque trumpet".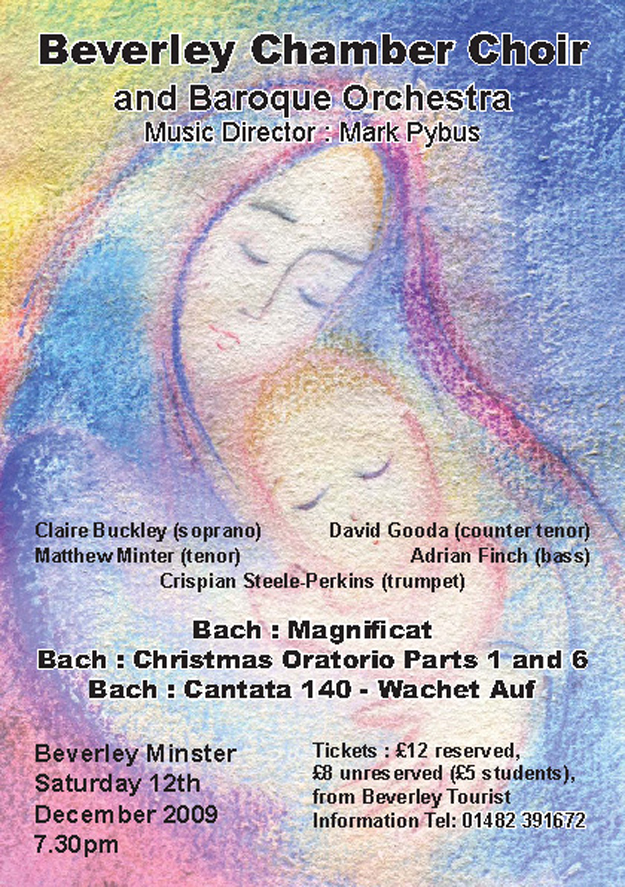 Beverley Chamber Choir and Baroque Orchestra live at the Beverley Minster