Some fine enterprising rugby by Beverley RUFC brought them a comfortable victory and lifted them above their opponents in the table.  Overall the game was by no means a classic but some of Beverley RUFC's play was as good as we have seen all season Beating Rossendale 37 – 10.  Not since the opening matches have they moved the ball so crisply and menacingly as they did here and Rossendale simply could not match their pace and cutting edge.
Beverley RUFC started at a gallop.  Within three minutes Phil Duboulay had put them ahead with an excellent penalty kick into the wind and when Mike Kilgannon went over in the corner for a try five minutes later Duboulay added the conversion with an even better kick from the touchline.  Almost immediately Goran Jelencic was away down the wing on a thrilling forty metre run which would have brought a second Beverley RUFC try had he not slipped on the greasy surface when rounding the fullback.
After ten minutes it looked like a rout could be on the cards but the beefy Rossendale pack began to impose themselves and Beverley RUFC's lighter eight were increasingly put under pressure.  With Martin Shaw absent the Beverley RUFC front row lacked its normal balance and solidity and when loose head Danny Morris was yellow carded he never reappeared, having been replaced by David Brant.  Frequent penalties for not releasing after the tackle were a feature of the game and this caused Rossendale winger Anthony Bingham to join Morris in the sin bin.  Rossendale wasted three easy penalty opportunities through some lamentable place kicking before Duboulay again showed how it should be done with another excellent penalty for Beverley RUFC on the stroke of halftime.
13-0 down at the interval it was difficult to see a way back for Rossendale even though they were getting plenty of possession and attempting to keep the ball moving.  They lacked the creativity to make any effective headway and when Beverley RUFC's Phil Dale made a timely interception he raced fifty metres to set up a try for Brant who powered his way over.  Duboulay added the conversion and then dropped a goal to take Beverley RUFC 23-0 ahead.
Beverley RUFC's Matthew Adams and Rossendale's Matt KcKenzie brought the game's number of yellow cards to four, again presumably for persistent offending.  It was never a dirty match but on top of the yellow cards there were numerous interruptions for lectures by the referee.  From the touchline you could not help feeling that it all seemed a bit pedantic.  The result was that the second half stuttered along with only occasional bursts of excitement.
Whenever Jelencic had the ball in his hands, which happily was more often than for some time, one's spirits were automatically raised.  A fine interception sent him bursting away into the visitors half where he released the ball to Richard Bussey who showed a nice turn of speed to outpace the defence and cross under the posts for a third Beverley RUFC try.
Two late tries for McKenzie and former Beverley RUFC player Patrick Pole brought Rossendale some deserved reward for their afternoon's effort.  But in between Beverley RUFC had earned a bonus point with a fourth try when Kilgannon touched down in the corner after they had counter attacked and set up a three man overlap.  Both Beverley RUFC's final tries were converted by Duboulay who along with Junior Tupai had an all round splendid day, being largely responsible for the excellent fluency of the back play.
Jerry Barnes at full back and Craig Hancock in the back row, who came in if for unavailable players, brought pace and urgency to the side and both will feel hard done by if they do not retain their place for next week's visit of high flying Stockport.
Junior Tupai played a key role for Beverley RUFC at Beaver Park at Beverley beat Rossendale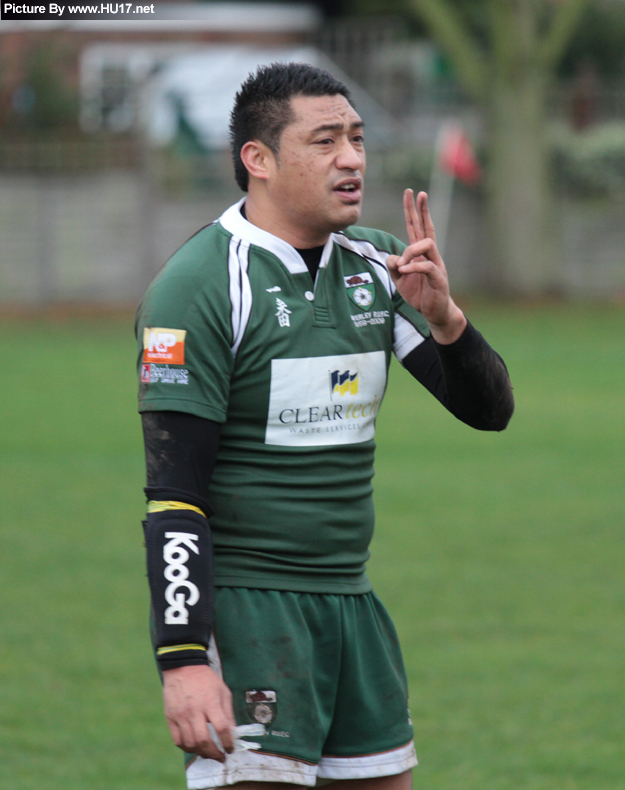 Click on the thumbnail to enlarge the image, these are just some of the pictures please contact us
if you require copies of your photo by sending an email to paul@hu17.net
Click on the thumbnail to enlarge the image, these are just some of the pictures please contact us
if you require copies of your photo by sending an email to paul@hu17.net