Beverley RUFC got back to winning ways beating Rochdale RFC 21 – 18 at Beaver Park. Phil Duboulay was the hero of for Beverley RUFC with the last kick of the match converting a penalty.
Match Report: Beverley RUFC snatched victory at the death after a closely fought game between two sides anxious to improve their league position.  There was not much memorable rugby on view but both teams tried to run the ball and were largely allowed to do so by the referee Andy Atwell who encouragingly kept his use of the whistle to the minimum.  For the second week running Beverley RUFC's Phil Duboulay was given the opportunity to turn a draw into a victory with a last ditch kick at goal.  This time he made no mistake and slotted the ball home with a fine kick from wide out against a stiffish breeze.
Beverley RUFC started and finished strongly but had an awful middle period when they turned a 12-0 lead into an 18-12 deficit.  For the first half an hour they looked to have got the measure of their opponents with two well taken tries and plenty of territorial possession.  They took the lead with a try by Mike Kilgannon after Jade Gardiner had broken through and Richard Bussey had kicked ahead down the touchline.  A fortuitous bounce and Kilgannon was clear for a try under the posts with Duboulay adding the conversion.  Ten minutes later James McKay broke through in midfield from a penalty lineout and Gardiner was on hand to outpace the defence and cross for a second try.
Whether Beverley RUFC thought the match was already won or whether they merely went to sleep is anybody's guess but their game alarmingly went to pieces and for half an hour they were all over the place.  The front row, Martin Shaw in particular, stuck at it well, and Tony Riby-French and David Worrall were getting through a tremendous amount of tackling and covering in defence but that was about it.  Beverley RUFC completely lost their dominance as the Rochdale pack took command and it was no surprise when the visitors got back into it.  With attention centred on a forward fracas on one side of the pitch their centre Steve Pitcher streaked away for a try down the other touchline to bring them back into the game.
A minute from halftime Rochdale were level.  Their fly half Steve Collins, the game's outstanding player, went over under the posts for a superb solo try after a mazy run from the ten metre line.  His conversion levelled the scores and the sides turned round with Rochdale looking commandingly on top.
Two Collins penalties early in the second half took Rochdale into an 18-12 lead as Beverley RUFC continued to struggle to make any headway.  A slow and laboured delivery by the forwards meant their backs had little opportunity to achieve anything and man and ball often arrived simultaneously.  Individually Gardiner and Junior Tupai did run strongly but like most of the Beverley RUFC running it was generally up blind alleys.  Eventually a determined run by Worrall led to a penalty for offside and Duboulay's successful kick from wide out brought Beverley RUFC back to within three points.
Suddenly Beverley RUFC seemed to get a sniff of victory and their play again took on the urgency of the opening half hour as they pinned Rochdale in their own half with some good attacking rugby.  With five minutes remaining Tupai saw his drop at goal squeeze inside the post to level the scores at 18-18.  Determined Rochdale defending continued to keep Beverley RUFC out but in the last minute they were penalised for barging in the lineout and Duboulay kicked the goal to clinch a match that on the day might have gone either way.
Jade Gardiner breaks through the Rochdale defence to set up the first try as Beverley RUFC win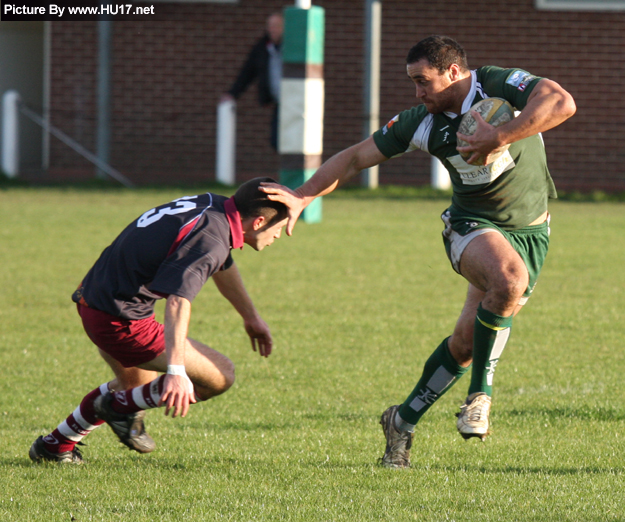 Click on the thumbnail to enlarge the image, these are just some of the pictures please contact us
if you require copies of your photo by sending an email to paul@hu17.net
Click on the thumbnail to enlarge the image, these are just some of the pictures please contact us
if you require copies of your photo by sending an email to paul@hu17.net