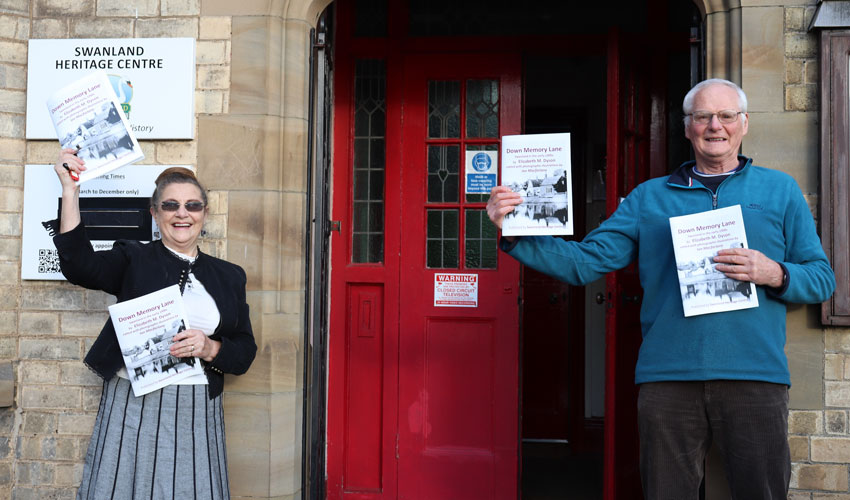 A new book, Down Memory Lane book about local history, is being released just in time for Christmas by the Swanland Heritage Centre.
The book is a stroll through the village of Swanland. It is told through the eyes of one local woman – Elizabeth Dyson.
Written in the early 1960s, Elizabeth gives her first-hand account of village life in the 1900s. A who's who of the local community in which she describes many of the people who lived there, their jobs, her friends and companions. While it also reveals what it was like to be a young woman in Swanland at that time.
Her witty personality and sense of humour shine through its pages where she divulges some of the local gossip, relationships and rumours. She also describes in great detail her fondness for the beautiful scenery and wildlife.
An original transcript was donated to Swanland Heritage Centre and has been lightly edited in a labour of love by Ian Macfarlane. He is a committee member. Ian worked tirelessly to transcribe it into a 75-page book. He also put photos from the period that he had hand-selected from the centre's vast archive.
Ian said;
"Elizabeth Dyson was an incredible woman. I wanted to be able to bring her stories to the community and let other people enjoy reading them as much as I had."
"She has a warm, conversational style making her book a delight to read. It enables you to understand more about how life in Swanland has changed over the years."
McCarthy and Stone, the retirement housebuilder behind Stapleton Court – a development of two-bedroom apartments designed exclusively for the over-60s in Swanland, heard about the book.
Donation Made Helped Get
Down Memory Lane
Printed
As a result, they decided to fund the printing and production of 200 copies. If successfully sold, this will be enough to fund the yearly rent for the Heritage Centre for one year.
Joanne Harris, Sales Consultant for Stapleton Court said;
"When I learned of what Ian was doing with the book, as a Swanland resident I wanted to read it for myself. I also knew it would be very popular with our residents here too."
"At McCarthy and Stone, we understand that it is our responsibility to try and help the communities in which we build as much as we can."
"I'm so pleased that our donation has led to the book being printed. While I look forward to getting to know Elizabeth Dyson and her many tales of Swanland."
In the book, Elizabeth describes her duty in looking after her home's lighting…
"I had myself fourteen lamps to trim every day in the dark winter; they were all shapes and sizes, to say nothing of the lamp glassed to clean. They had to be shining bright, otherwise it was a very dim light. What did we mind the work it meant to us? We did not know any other means of lighting. The next means of lighting was acetylene, which was rather frightening, and a little dangerous, to say nothing of the offensive smell."
'Down Memory Lane' will be available to purchase from the Swanland Heritage Centre for £5.00. The Centre will be open every Saturday from now until 19 December.
To enquire about the book or if you would like to reserve a copy to collect from the Heritage Centre, please call Yvonne Dumsbay. She can be reached on 01482 634863.
Anyone wanting to support the Heritage Centre can do so here: https://swanlandheritage.info/friends.html