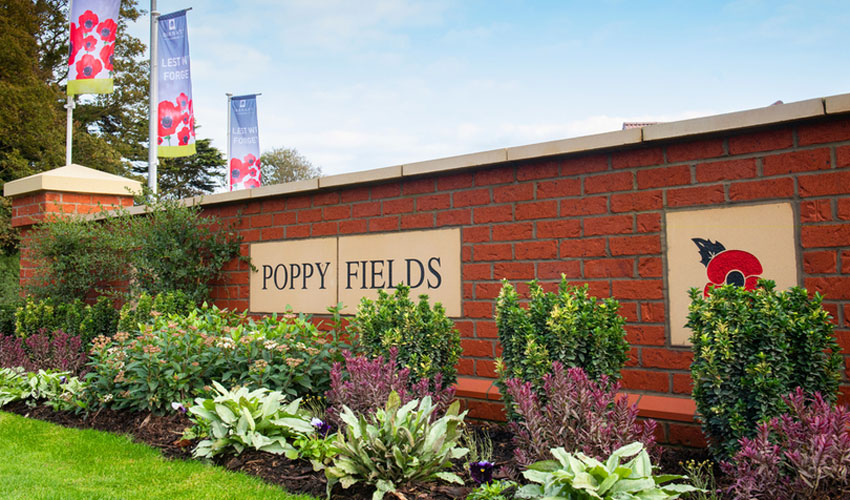 Five-star housebuilder, Barratt Developments Yorkshire East, is honouring war veterans and volunteers from the Cottingham branch of The Royal British Legion, with 11 acts of kindness and a £1,000 donation, this Armistice Day.
To mark Armistice Day on the 11 November, and to say thank you to the volunteers of the Cottingham branch of The Royal British Legion for their dedication and continuous hard work, Barratt Developments Yorkshire East has donated an act of kindness to 11 different members.
The gesture will see the chosen members each receive a gift hamper from Mr Smith's Delicatessen in Cottingham that contains a mix of deli chutneys, jams and biscuits along with giftware such as mugs, in recognition of their outstanding work in the community.
One member, Rosalie Shores, continues to raise vital funds for both The Royal British Legion and the Poppy Appeal after her late husband, the branch secretary for ten years, sadly passed away last winter.
Volunteers John Broughton, Terry Miller and Denise Thompson, Colin Basley and Nudgean Basley have each made an outstanding contribution in their varying roles from loyal volunteers to treasurer and chairman. Each has been critical in maintaining the Cottingham branch as well as raising thousands of pounds and regularly distributing much-needed funds to worthwhile local causes.
Another member, Andy Penney, has been described by the branch's chairman as "one of the most dedicated and regular supporters of The Royal British Legion". Andy, a retired ship's pilot, applies the same dedication to the Royal British Legion as he did to his long-serving career. Often present to support any activity, no matter the circumstance, Andy willingly takes on the more physically demanding roles within the branch, all whilst maintaining a positive and cheerful attitude.
Other members, Gary Fraser, Delia Johnstone, Helen Bristow and Sonia Greaken have also received a well-deserved gift hamper to mark their tireless efforts for the Poppy Appeal, which sees them raise and collect essential funds.
On top of the acts of kindness, and to offer much-needed support to the Cottingham branch of The Royal British Legion, Barratt Developments Yorkshire East's Poppy Fields development has donated £1,000 to assist the charity in providing lifelong support to serving and ex-serving personnel and their families in the Cottingham region.
Last year, a group of students from Cottingham High School were invited to name the streets of local Poppy Fields development and were asked to research local wartime history, war poems and Hull veterans to inspire their suggestions. Examples of the street names chosen by the school include Oppy Wood, inspired by a battle fought by the Hull Pals in May 1917, some of whom resided in Cottingham. Other street names include Jack Harrison Avenue, named in memory of fallen Hull hero, Jack Harrison.
Paul Hogan, Sales Director at Barratt Developments Yorkshire East, commented: "It's an honour to donate to The Royal British Legion this Armistice Day. We understand how difficult this year is for local charities and organisations that rely on the fundraising efforts of the community, so we are more than happy to help. We wanted to contribute 11 acts of kindness in addition to the monetary donation to spread happiness amongst the dedicated team at the Cottingham branch of The Royal British Legion during this challenging time, as well as shine a light on the continuous devotion they have as volunteers to the branch."
Jerry Cross, Chairman of the Cottingham branch of The Royal British Legion, commented:
"We'd like to thank Barratt Developments Yorkshire East for their generous donation. We've had to adapt in light of the pandemic and we are asking the public to support us like never before. The acts of kindness have definitely boosted morale during these times when we can't actively go out into the community and raise money for the Poppy Appeal as we usually would. We're really grateful for Barratt Developments Yorkshire East's support during this tough and uncertain time."
At Barratt Developments Yorkshire East, any ex-Armed Forces personnel can take advantage of various offered schemes and programmes. The Armed Forces Transition Programme provides training and support needed to ex-Armed Forces personnel who are interested in becoming a qualified Assistant Site Manager.
For home buyers, the Armed Forces Deposit Contribution Scheme offers a 5% deposit contribution to the new homes of Britain's military servicemen and women, to help them get on the property ladder.
For more information about Barratt Developments please visit www.barrattdevelopments.co.uk