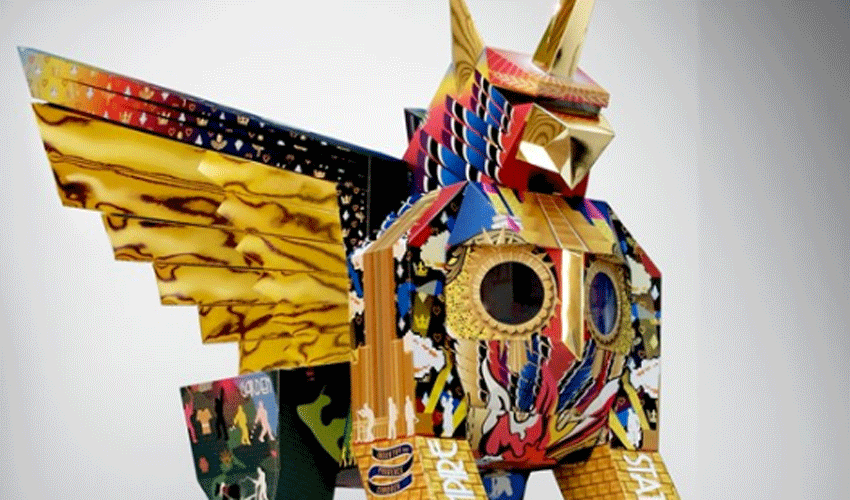 The Treasure House, Beverley is proud to be unveiling the first of two contemporary art commissions as part of the East Riding Visual Art Uplift, a commitment to showcasing and integrating contemporary art into the region.
Following a hugely successful open call to artists, both nationally and internationally, it can be revealed that Canadian artist, Ian Kirkpatrick, who is currently based in London, has secured the commission to bring a contemporary twist to the Treasure House this October.
The commissioned artist, Ian Kirkpatrick said: "I'm thrilled to have been selected for the commission at the Treasure House. Beverley has such a deep history – stretching back to at least the seventh century – and I'm keen to explore it as part of this project. My work typically involves a great deal of research into an area's history, which I translate into bright, colourful surface decorations for my large-scale sculptural pieces. The artwork for the Treasure House will be covered in bold, playful iconography that reflects the local area and its heritage – including the ancient beavers that gave Beverley its name. I think there will be something for all ages to discover within the work."
'Beverlac', as the artwork is titled, is set to take the form of a monumental beaver-shaped sculpture standing atop a dam – reflecting the origin of Beverley's name (Beaver + Lake). Ian's style involves designing unique digitally printed modular cardboard to create bold and striking sculptures full of colour and expression, which encapsulates the town's heritage, alongside exploring urgent environmental themes.
The metaphor of the beaver – once abundant in the area until it was hunted to extinction – will act as a symbol of humanity's need to develop new, sustainable habits in order to survive into the future.
Small workshops with the community will be staged alongside to create the 'dam' utilising recycled cardboard and transforming it into meaningful elements of the artwork.
Nial Adams, Museums and Archives Manager said: "The Treasure House Commission is one of the most exciting art projects taking place in Beverley, and we are delighted to see submissions ranging from local artists to creatives from literally all over the world. We were blown away by the high quality of the submissions, and by the wide range of the artists' talents and ideas.
"The Treasure House and Beverley Art Gallery are dedicated to bringing cutting edge contemporary art to Beverley while honouring local traditions and history. Ian's sculpture has very strong links to the historical origin of Beverley while using contemporary digital technology to produce the piece, as well as working with the local community. Bringing together world-class art and our passion for local heritage is at the very core of this extremely exciting commission!"
The artwork is set to be installed in the foyer of the Treasure House for two months from October with further details being released shortly, alongside workshop opportunities for the community and an artist talk once the piece has been installed.