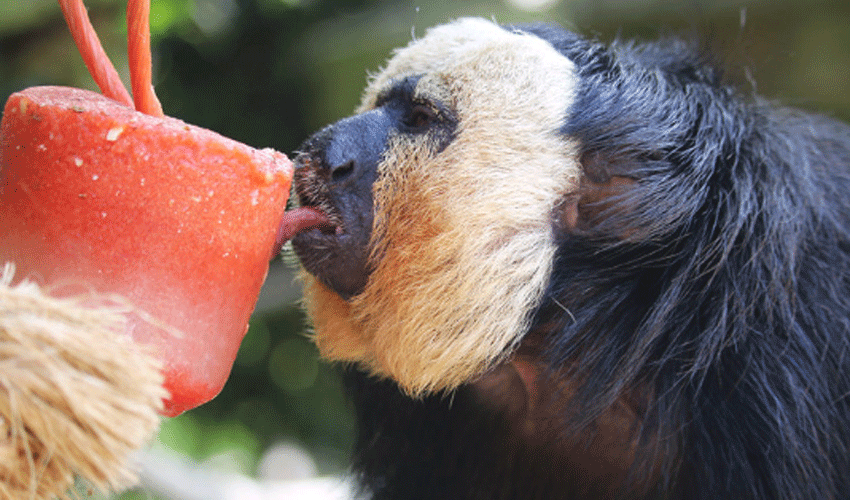 Everyone loves an ice lolly when the sun is shining and Mani the white-faced Saki monkey made the most of his treat at a sweltering Yorkshire Wildlife Park.
With the thermometer hitting 30C, the award-winning park's animals cooled off with dips in pools and ponds or relaxed in the shade.
Mani was grateful for the natural fruit ice that was placed conveniently for him and his six-strong family in the South American section at the 150-acre park.
"The weather has been really hot so we've made sure there is plenty of water to drink and splash around in along with areas where our animals can take it easy out of the sun," said Greg Clifton team leader for primates at the park in Branton, near Doncaster.
"We provide them with ice lollies made from fruit which the Saki monkeys adore and is great to see visitors and animals all enjoying this fantastic weather."
The Saki monkeys, whose diet is mainly fruit and vegetables, arrived at the park last year and the distinctive white faces of the males make them visitor favourites.
Jasper the rhino also had a helping hand to protect his sensitive skin with Rangers applying a cream to his hide.
The process mimics rhinos behaviour in the wild where they roll in mud to get a protective layer of dirt to combat the sun's harshest rays.
The capybaras, another South American native, took regular plunges in their pools to keep cool while the tortoises found plenty of shade and just watched the world go by.
The park, which has over five kilometres of trails where visitors can get close to more than 450 rare and endangered animals, is open and operating safe distancing policies.