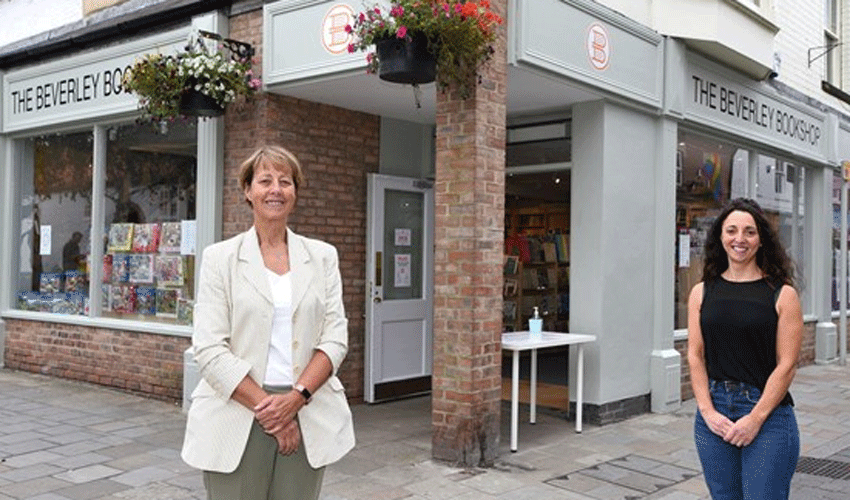 The Beverley Bookshop is one of many businesses that has benefited from a fund to help local high streets.
As a result of the fund, the business has been able to renovate the shop. While it has also helped them boost their online presence.
Since relaunching its Love Your High Street fund in April this year, East Riding of Yorkshire Council has helped more businesses, local town/parish councils and organisations.
This has been done by offering 100% grants of up to £10,000 during the COVID-19 pandemic.
The fund of £1.2million has been well-received in the region, and one local business owner to have used the funding effectively is Lucy Rawnsley, who runs The Beverley Bookshop.
The shop, which has traded in the market town's high street for nearly 21 years, used the grant to partially fund a re-brand and refurbishment.
Work undertaken including improving the lighting, accessibility for wheelchairs. They have also reorganised the store layout and an external and internal repaint.
The fund also allowed Lucy to update the computer systems the shop uses, along with developing a website using Shopify.
Speaking about the application process for the funding, Lucy said:
"I was guided through it by one of the council's business advisers, who was very helpful and encouraging."
"I am delighted with the finished refurbishment to the shop. We had a very clear vision of what we wanted to provide for our customers and they are hugely complimentary about it."
"I feel that we have improved what is on offer on the high street and by now being The Beverley Bookshop. Our hope is to provide for our local community for many years to come."
The Beverley Bookshop A Positive Example Of How Fund Can Help
Councillor Victoria Aitken, East Riding of Yorkshire Council's portfolio holder for economic development and inward investment, said:
"We are delighted that since its relaunch. The Love Your High Street fund has provided significant support to our local businesses at locations across the East Riding during this difficult time for everyone.
"Lucy's story is a really positive example of how flexible, helpful and swift the scheme can be."
"It is really encouraging that The Beverley Bookshop continues its business with the re-brand, a web presence and also refurbishments."
For more information about the fund, or to apply for a grant, please visit www.loveyourhighstreet.co.uk