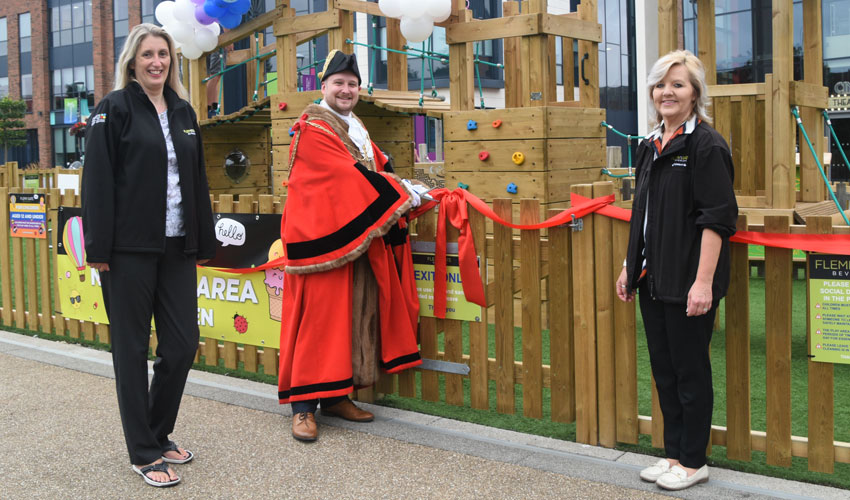 This week saw the opening of Flemingate's new play area. As a result of the opening, Flemingate has doubled the size of its existing popular play area.
This has been done with the addition of an activity tower featuring a climbing wall and slide. Also, interactive play panels and some new play equipment for younger children have been installed.
The area is now also fully enclosed with fencing around the area, giving even further confidence to parents that their children can use the area safely.
The fantastic new play area was officially opened on Thursday by The Mayor of Beverley, Councillor Tom Astell, in his first official engagement since being appointment during the lockdown in May.
Councillor Astell said:
"It's a pleasure to open these new facilities. I hope they can be enjoyed by many more children and young families for years to come."
Flemingate has put in place a number of safety measures. These include the introduction of a one-way entrance and exit, hand sanitisers.
While they are undertaking regular cleaning throughout the day. Signage has also been out in reminding users of social distancing. Children must be supervised by an adult at all times to ensure these measures are adhered to.
Play Area Back Open And Children Are Welcome
Jo Bridgeman, Marketing and Events Manager said:
"We have seen many children walking past and wanting to go and play so it is great it can now open. We want people to enjoy the outdoor play area but it is important that they also remember to stick to current guidelines. This is important for the safety of everyone."
The play area opening follows on from the easing of restrictions on the leisure industry. Flemingate has extended outdoor seating areas of the restaurants, pubs and cafes, This has been done to enable them to accommodate the need for social distancing and waiting areas.
The majority of the retail stores have now reopened and shoppers are returning. Essential stores at Flemingate remained open throughout the lockdown.