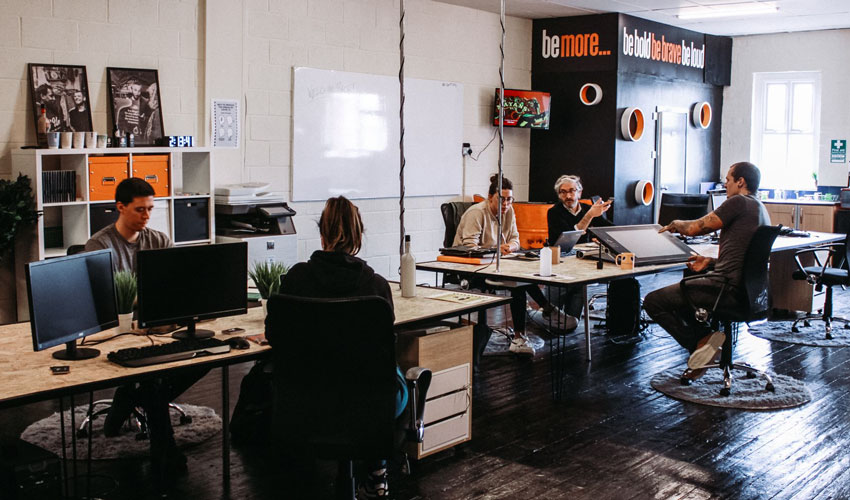 Following a period of strong growth, Drunk Animal Creative Studios Ltd. is on the hunt for the next rising stars in marketing and design.
Currently home to two of this year's Top 30 under 30, the agency's Creative Director, Calvin Innes, believes that the success to date, and the continued growth of the agency, lies in nurturing and developing a new generation of talented professionals.
CEO and creative director, Calvin Innes said; "Over the last few months, the agency has been working extremely hard winning new clients, delivering new projects and diversifying our offering when we've spotted gaps in the market. We've even moved into the world of publishing to provide a new platform for businesses in the region – 88 Magazine is a free lifestyle magazine that celebrates and actively promotes local businesses.
"We've now got to the point where we need additional support to deliver our exciting pipeline of work. But we don't just want anyone; we want the brightest, most innovative minds, to join the team. That's why we're looking to school and college leavers to bring a fresh outlook to the team."
This month, the agency will launch its search for three apprentices to join the dynamic agency. Aimed at those wanting to start a career in the creative industries, the first three apprenticeships will cover marketing, design and web development, and will report into the newly expanded management team.
Calvin added; "The Association of Colleges recently estimated that more than 130,000 apprenticeships that we're due to start this summer have been cancelled as a direct result of COVID-19. While that means many students will stay in education, for some, a more vocational approach to learning is really the only option. With so many apprenticeships being cancelled, the business community has a duty to support the next generation."
"I strongly believe in giving young people every chance to succeed beyond school – I owe my personal and professional success to a business owner who gave me an opportunity at 17, so I'm really pleased that I'm able to pay that forward and create three new apprenticeships for young people in the city."
Job descriptions for each of the three apprenticeship roles are available on the agency's website and will be promoted via social media. While there is no closing date, Calvin urges anyone interested in joining one of the fastest-growing agencies in the city, to get in touch soon.
"Brave, bold ideas sit at the heart of Drunk Animal Creative Studio – it's what we're known for – so if you want to stand out from the crowd, I encourage you to be creative in your approach to us – we want to speak to people that have a genuine passion and desire to succeed in a fast-paced agency environment," said Calvin.
This is an ideal opportunity for anyone looking to forge a career in marketing, design and web development. To find out how you can explore a career with Drunk Animal Creative Studio, visit www.drunkanimal.com/jobs.