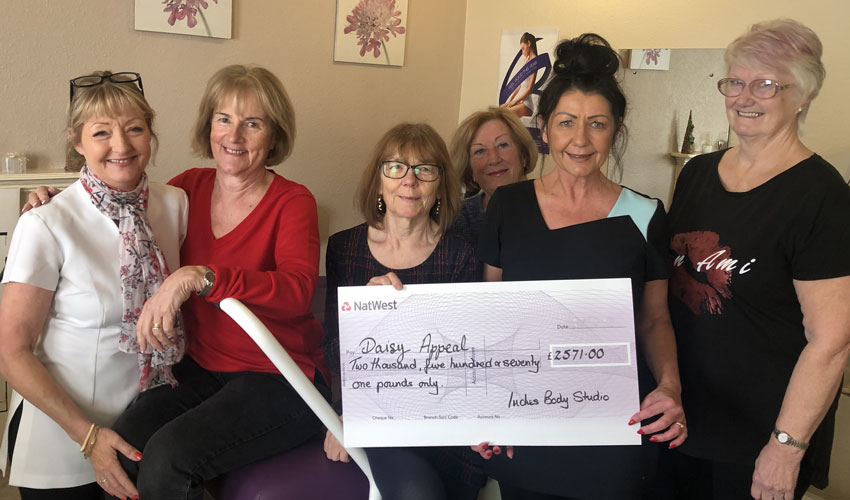 A health and fitness studio which helps people with weight loss and mobility is putting on the pounds to raise money for a regional charity.
Staff and clients at Inches Body Studio in Beverley have raised more than £2,500 just from organising a weekly bonus ball competition.
They now plan to double the value of their donation by handing over the money to the Daisy Appeal as part of The Big Give, and they are urging other fund-raisers to do the same.
Yvonne Jones, who took over the business more than 20 years ago with her sister, Michelle, said:
"We have been doing the bonus ball for most of the time we have been here and the latest donation is the proceeds from the last year. It's fantastic how much you can raise from people paying just £1 a week, and we're delighted that The Big Give will double our donation to nearly £5,800."
The Big Give Christmas Challenge is the UK's biggest online match funding campaign. For seven days from midday on Tuesday 3 December, it offers supporters of participating charities the opportunity to have their donation doubled.
Claire Levy, Fundraiser for the Daisy Appeal, said:
"The Daisy Appeal relies on the amazing commitment of people and businesses to help to reach its fund-raising target and everyone at Inches Body Studio has done a brilliant job.
"We're really grateful for the donation and for the way in which Yvonne, her staff and clients are spreading the word about how so much money can be raised from people giving just £1 per week.
"We'll add it to our donations for The Big Give and we'd urge anyone else who is raising money for The Daisy Appeal to get in touch as soon as they can and help us maximise the value by doubling up while the window is open."
The Daisy Appeal has a target of £8.2-million to complete a radiochemistry and cyclotron unit which will produce radioactive tracers at Castle Hill Hospital to improve accuracy and detection rates for cancer, heart disease and dementia in Hull, East Yorkshire and North Lincolnshire.
The new facility will provide the opportunity for patients to receive more personalised treatment leading to earlier diagnosis and giving them a better chance of survival.
Once the facility is fully functional patients from a wider geographical area will have access to its services. The charity aims to play a leading role in clinically relevant PET-CT research over the next two decades and to show that the technology can be brought to the individual patient, quickly and effectively.
Yvonne and Michelle bought Inches after previously working in the family bingo club business, which operated in Hull and Cleethorpes as well as at the old Regal in Beverley. Michelle has since retired but Yvonne continues to run Inches and lead the fund-raising.
She said: "Over the years we've raised about £10,000 for Cancer Research and about another £5,000 for Yorkshire Cancer as well as money for dementia research and the Daisy Appeal. I just do it as a matter, of course, every week.
"My mother used to raise money for cancer research by selling second-hand clothes so fundraising has always been in the family, doing things for the community. I get a lot of enjoyment from it, possibly more than I do from running the business!"
To find out more about the Dairy Appeal please visit www.daisyappeal.org.uk
To help the Daisy Appeal double its money in The Big Give please visit www.bit.ly/DaisyChristmasChallenge