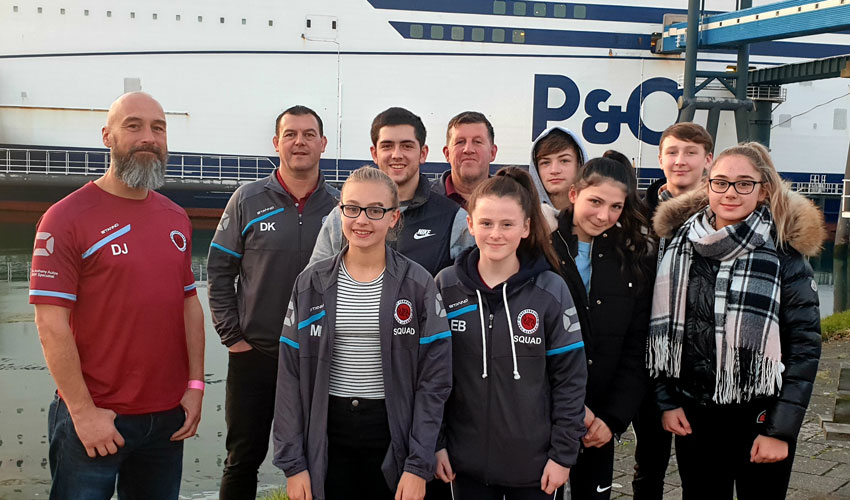 East Yorkshire Judo Academy travelled to The Hague in Holland for the Adidas International Judo Tournament.
A full weekend of competition it pitted their players against some of the best in Europe.
With 1500 Judoka present across the various weight groups from 18 countries the EYJA judoka would need to be on top form in every single fight.
On Saturday daytime it was turn of the u15 and u12 age groups. Hayes Campbell was awarded the first medal of the day with a Gold in his category.
James Hindle had a great competition showing off his ever-improving judo, with some determined wins. Maddy Kissenisky with one of her best performances to date lost her first fight to the eventual winner and came through with 3 strong wins before losing a closely fought fifth match.
Eleanor Buckle moved up a weight category to compete for the first time in the u52kg's. Nervous at first, Eleanor stepped up to the task in hand and fought brilliantly taking her first win in the new group.
In the evening session, it was the turn of the slightly older players to shine. James Hindle was offered the chance to fight again this time in the u23 category.
James (14) had never fought against such older players but held his nerve to produce 2 very good fights taking both his opponents deep into the matches. Sean Tooby (17) fought in the u21's and looked as solid as always.
Sean progressed well through all of the rounds until he made it to the finals. After yet another good fight Sean earned a Silver medal against an opponent that was towering above him in height.
Tommy Jackson (15) fought hard in the u23's with 5 fights and earned himself a Bronze medal, Mason Campbell also got a Bronze in the u18's.
Ellie Morris (15) travelling with the EYJA team from another club, SKK, won a series of fights achieving a very credible 7th place finish in the u21's. East Yorkshire Judo Academy's Ellesha Tennison (14) had a great evening fighting including an impressive win by strangulation in the u21's and gave another super demonstration of her judo skills.
After the four medals won on Saturday, Tommy, Ellesha, Ellie, James and Mason all fought again on Sunday.
There were no medals to be had on this occasion, but all five players did exceptionally well in extremely large categories. They all progressed well into the competition, again showing that they had the skill sets required to be at such a major tournament.
Once again, the coaches at East Yorkshire Judo Academy were impressed with their ever-improving squad of players.
None of the team had a bad fight and at this level of competition, it's a testament to how hard they train and how skilled they are all becoming.
Some of the players from this weekend are heading into the British Championships in early December with a real prospect of medalling and even winning. Good luck to all of those taking part.
Contact Danny at danny@eastyorkshirejudoacademy.com if you'd like to try judo with this club that is clearly going places.