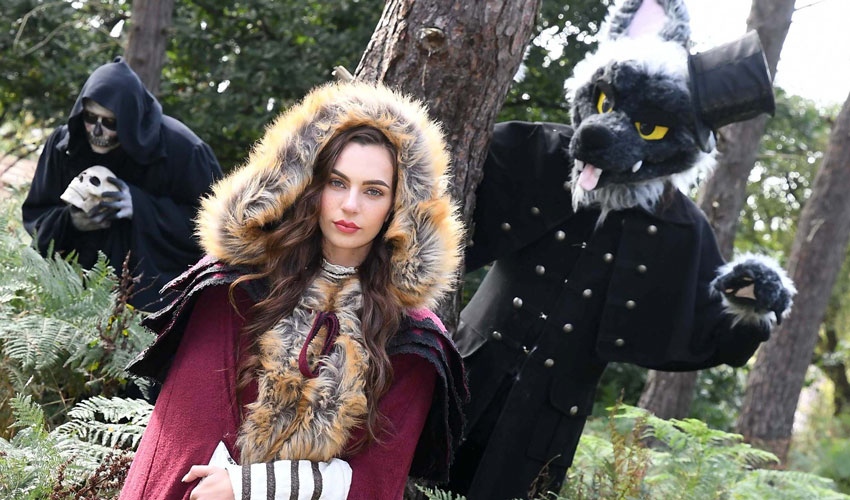 Prepare to be spooked as Yorkshire Wildlife Park casts enchanting spells across Halloween half term.
Mythical beasts and creepy characters will be at the heart of thrilling adventures. They will be there throughout the week at the award-winning park.
Visitors will also be treated to a range of ghoulish events. These will include the Brothers Grimm Scary Tales and fairytale figures roaming the 100-acre park at Branton, near Doncaster.
Families are likely to bump into characters inspired by tales from Snow White, Sleeping Beauty, Rumpelstiltskin and Little Red Riding Hood. These will all be played by professional actors. Visitors will also be able to enjoy arts, crafts and fun games from October 26 to 28.
"Everyone loves a spooky Halloween and there will be plenty of opportunity for fun activities, as well as the chance to see the park's incredible animals," says Chris White, Head of Guest Experience at YWP.
"The October Half Term is always something to look forward to. Even though the days are getting chillier, you can wrap up warm and certainly enjoy a magical time at our themed events."
More Than Just Animals This Halloween Half Term
Halloween has been a roaring success in previous years with a record-breaking 22,000 visitors enjoying the wide range of entertainments. This year's event will be the largest family-friendly collection of spooky goings-on.
YWP, one of the fastest-growing wildlife attractions in the UK. It offers families an entertaining, fun-filled and also educational day out. The park features a range of different experiences which last all year round.
Visitors can revel in the unique wildlife packages including The Alternative Big 5, Meet the Meerkats and Meet the Lemurs experiences.
The Alternative Big 5
This stunning package gives visitors a prized behind-the-scenes tour to meet black rhinos Hodari and Dayo, get up closer than you ever imagined possible to Big Cats, a Giraffe and Polar Bear and enjoy a Big Breakfast in the Safari Cafe after this unique adventure. The cost is £250 per person, with a maximum of 6 people per experience (minimum age ten years old).
Meet the Lemurs
Celebrate the World Lemur Festival with our lovely lemurs and get a ranger-guided insight into the lives of these critically endangered animals. The Yorkshire Wildlife Park Foundation is working with AEECL Lemur Conservation Group to help save these enigmatic and mischievous animals. Tickets cost £50 which includes admission to the park.
Meet the Meerkats
Get up close and personal with everyone's favourite cheeky creature. You can even feed them some of their favourite treats as they scamper around your feet. Their antics will keep you spell-bound and a ranger will tell you all about Meerkats. Tickets cost £50 which includes admission to the park.