Richard Price, Licensee of the Sun Inn says he is delighted after learning he has made through to the final of Local Pub Parliamentary Completion.
Mr Price has been running the Sun Inn for eight years. His public house was nominated following a competition run the MP Graham Stuart's Facebook Page.
Dozens of pubs were nominated from across the Beverley and Holderness constituency. However, it was the Sun Inn in the historic town of Beverley that came up trumps.
Speaking to HU17.net Mr Price said;
"I am absolutely delighted people voted for us. It came totally out of the blue. I had seen the MPs post on Facebook and shared it on the Sun Inn page and was the last I thought of it."
"Then I got an email informing me we had won. I really want to thank all the people who took the time to nominate me. Also, I would like to thank our MP for putting it out there."
The Sun Inn on Flemingate in the shadows of Beverley Minster. The Sun Inn has a busy schedule and is well known for promoting local musical acts.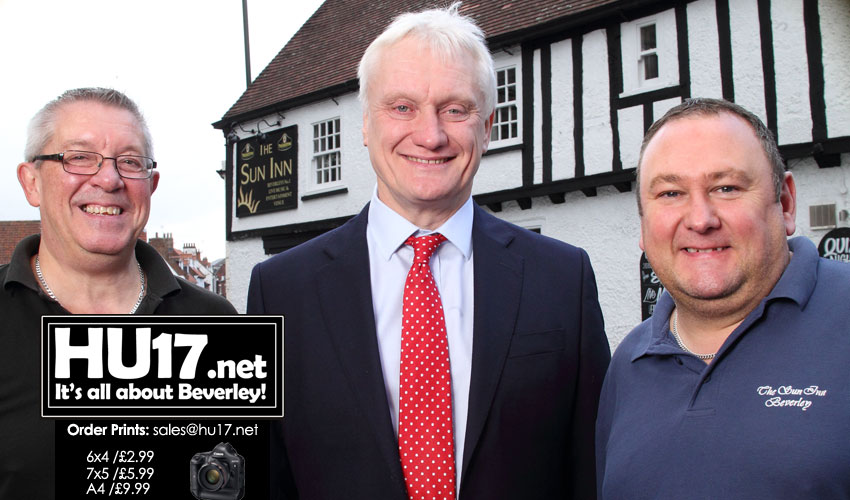 We Are Just A Good Solid Community Pub
Speaking about the pub Mr Price said;
"We are an out of town dog-friendly pub that is music-led. Every Friday and Saturday night we have live bands playing. Tuesday we host open mic nights where we encourage new local talent."
"We also support a number of local music events like the Beverley Fringe Festival and the Beverley Blues Festival. The Blues Festival was in fact started here in this very pub."
"It is not just music. We have a men's and ladies darts team while on a Sunday we do a fantastic Sunday dinner. Generally speaking, we are just a good solid community pub."
"In all the time we have never won anything like this. After four years of trying I was very proud when we got into The Good Beer Guide and been there ever since."
Sun Inn Landlord Will Now Travel To London For Finals
Mr Price will be heading off to London early next year where he will attend the finals that are being hosted at the House of Commons.
While he has visited London he says he is really looking forward to going to Parlament.
The MP himself was thrilled with the response he got to the competition, he said;
"I was delighted with the response from the public when I asked for my constituents to nominate their favourite local."
"The support for our pubs in Beverley and Holderness was incredible and shows how important they still are for our local communities."
"Pubs play such an important role and are part of our national fabric, so I was very glad to be given the opportunity to showcase some of the fantastic work they do and in particular the great work of The Sun Inn who have proven worthy winners."