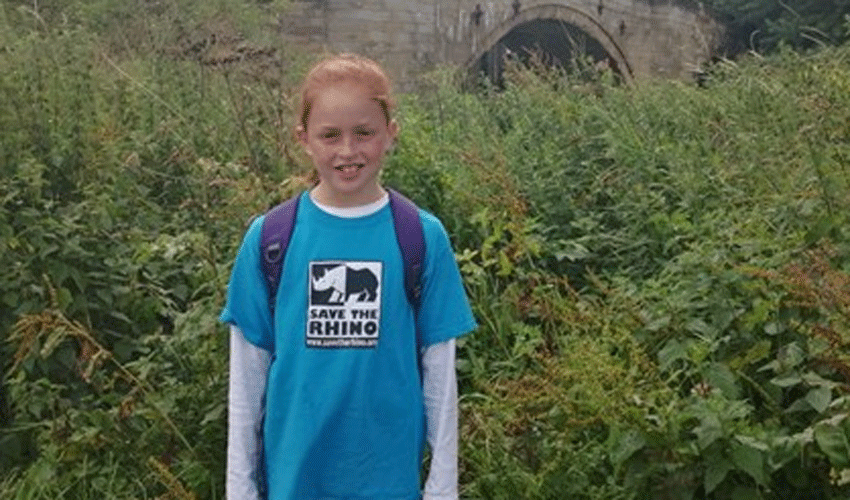 A trip to the Wildlife Photographer of the Year exhibition in Beverley in 2018 has inspired one young visitor to complete a fundraising walk from Beverley to York, to raise money to save rhinos.
Acacia Van Dyk, aged 10 and from Cottingham, visited the exhibition at the Treasure House last year, which showed winning photographs from 2017, and was moved by the stunning and shocking picture she saw of a rhino with its horns removed.
She explains: "My favourite animal is the rhino. One day, I went to an exhibition to see the Wildlife Photographer of the Year in Beverley. The pictures they took led me to a trap of tears and this is when I decided to do something special for the rhinos.
"I decided to do it because the picture made me feel upset, angry and sorry for the rhinos. The picture was disgraceful; both of the rhino's horns had been sliced off, which meant he had half of his head missing."
Acacia decided to help the animals by doing a sponsored walk with her father along the Minster Way from Beverley Minster to York Minster. She recently completed 52 miles over three days, including one of the hottest days of the year. The walk has raised over £1000 for Save the Rhino.
Acacia's mum Rachel added: "She has braved blisters, chafes and sunburn with determination and focus. Her friend Florence also completed the challenge and her younger brother Egan did 40 miles. A real team effort; I could not be a more proud mum."
Museums manager Nial Adams said: "Well done to Acacia and her family for doing this walk, and helping this endangered species. I am absolutely delighted that a visit to our amazing Wildlife Photographer of the Year has inspired Acacia to try to do something to help one of the animals featured in last year's exhibition.
"It may be that other visitors could be similarly inspired this year?"
According to the Save the Rhino website, the black rhino is critically endangered. Its population today is 5,500, but in 1970 the population was 70,000. The white rhino is threatened and is recovering from near extinction. Last year, at least two rhinos were poached every day in South Africa.
Anybody who would still like to donate to Acacia's Walk for Rhinos can do so at
https://uk.virginmoneygiving.com/AcaciasWalkforRhinos