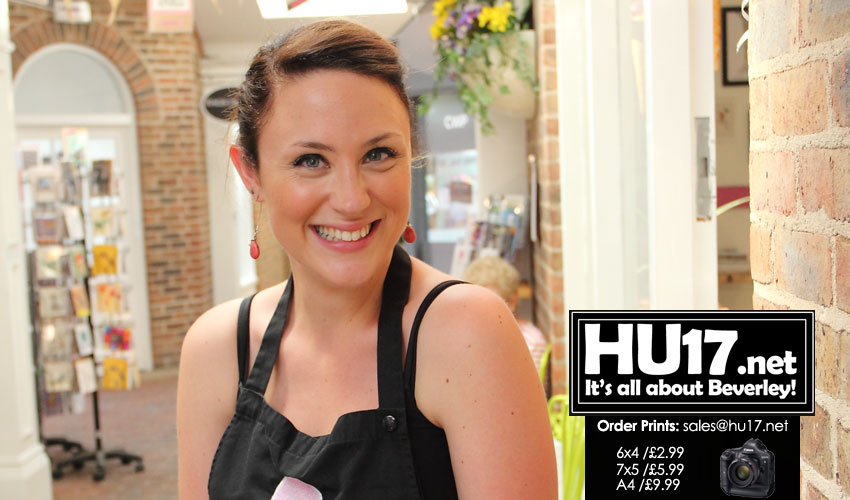 Poma, the local business that makes and sells Artisan Gelato and Italian food continues to flourish in Beverley's Historic Core.
Their ongoing success saw the business celebrate their third anniversary since opening in St Mary's Arcade, North Bar Within.
Owner of the business, Jessica Poma is arguably the queen of Ice Cream in Beverley. From St Mary's Arcade, she churns out all the classic flavours as well some more exotic ones you can not get anywhere else.
Speaking to Hu17.net she said;
"We do all the classic Italian flavours such as pistachio, Nocciola and also America. Also because we make it ourselves we experiment and play around."
"So, for example, people have come in with fruits like Rubarb, Pears and Raspberries from their gardens. I have then used these to make ice cream."
"We like to make ice cream using fruits that are in season, this is something you are unlikely to see in other places. "
"What we make is sold here at St Mary's Arcade and also at our cafe Walkergate. In all, we have been making ice cream in the town for over six years."
Poma Introduce new Colourful Cones On Third Anniversary
Jessica has just introduced new cones at Poma, rainbow waffle cones. She says that people love a rainbow while adding that work well as they are a colourful business.
Poma celebrated have also just celebrated their third anniversary since opening in St Mary's Arcade. In that time Jess says business has continued to grow.
She said;
"Overall things have gone well here. St Mary's Arcade is Beverley's only indoor shopping centre which is worth shouting about."
"We sell much more than just ice cream. For example, we have great coffee which you can have here outside in all weathers undercover. We get a lot of dog walkers which is nice."
"I certainly like be this end of the town. We are in the shadow of North Bar so we get lots of tourists down. People also seem to like getting ice cream and sitting out in Coronation Garden."
"People who have been walking on the Westwood and also using the nearby children's play area pop, it really is a nice end of town."
"Over the past three years, I have built some good relationships with the other business here at St Mary's Arcade. We work with one another doing things like sharing each other post on social media and holding brainstorming sessions."
"There are still people in Beverley that think this arcade is empty and that there is nothing down here. That is why I want to shout about the fact we have been here for three years."
"Not only are there businesses here, but there are businesses that have been here a long time."