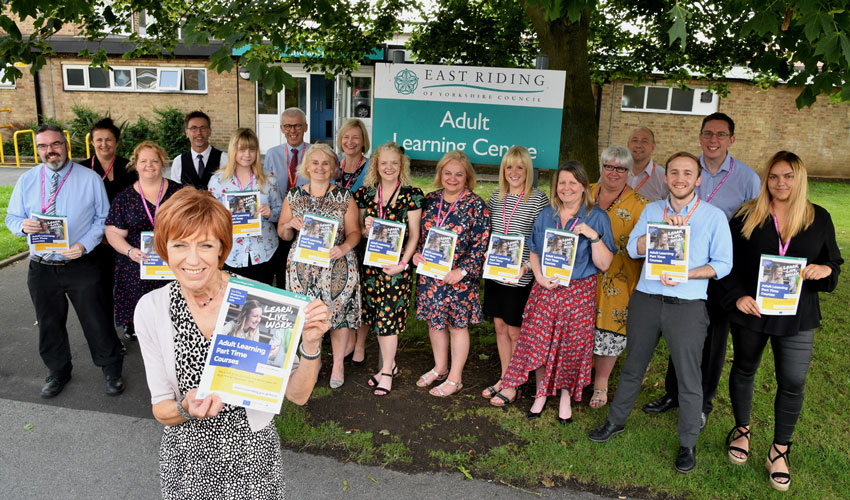 The Beverley Adult Learning Centre is celebrating its third anniversary with more courses on offer in 2019 than ever before.
Since the centre opened its doors in July 2016 it has gone from strength to strength, with thousands of local learners passing through its doors and gaining new skills and qualifications.
This autumn, many more learners will have a chance to sample some of the many part-time courses on offer.
September is 'have a go month' during the nationwide Festival of Learning when there is a chance to try a free two-hour session to find out more about what adult learning is like and to meet the tutors.
East Riding of Yorkshire Council's employment, education and skills team has been working closely with the Festival of Learning, which is led by the Learning and Work Institute.
The festival recognises the inspiring achievements of adult learners nationwide and provides a showcase for the wide range of opportunities and resources available to adults hoping to continue or resume their education.
Courses range from arts, crafts and creative courses, to health and wellbeing courses that can lead to a qualification.
Try courses on offer this September at the Beverley centre include conversational Spanish, crochet, costume making, counselling, creating writing, dressmaking, felt flowers, knitting, patchwork and quilting, photography, tablets and smartphones and using a computer, as well as mindfulness, self-esteem and confidence building and supporting teaching and learning in schools.
Also, new this year there is an opportunity to help to shape future courses by taking part in taste and test sessions in subjects that are not yet available as main programmes. These include interior design, mobile phone photography, poetry and Polish.
Sara Arnold, employment, education and skills group manager, said: "You can learn a lot in two hours, which is why the Festival of Learning is a great way to introduce new subjects and interests. If you find that you could benefit from a full course, then our tutors will tell you more about the main programme of learning during the session.
"On a try course, residents can come into a centre, enjoy a free two-hour course of their choice and get an idea of what goes on in a classroom and what adult learning is like. There is no pressure to commit and we hope that local residents find something that they really enjoy."
Booking for the try courses is essential, as places are limited.
The council's employment, education and skills service was recently rated as 'good' in all areas by Ofsted, including its adult learning programmes, outcomes for learners and overall effectiveness.
Councillor Jane Evison, East Riding of Yorkshire Council portfolio holder for local economic growth and prosperity, said; "Ensuring that residents continue to have access to a wider variety of adult learning courses which can help them with employment and education or for hobbies and as a social outlet is a priority for the council as one of the region's main economic drivers.
"The fantastic range of courses on offer at the Beverley Adult Learning Centre is a real opportunity for residents to improve their skills, pursue a hobby or challenge themselves to try something which is out of their comfort zone and completely new."