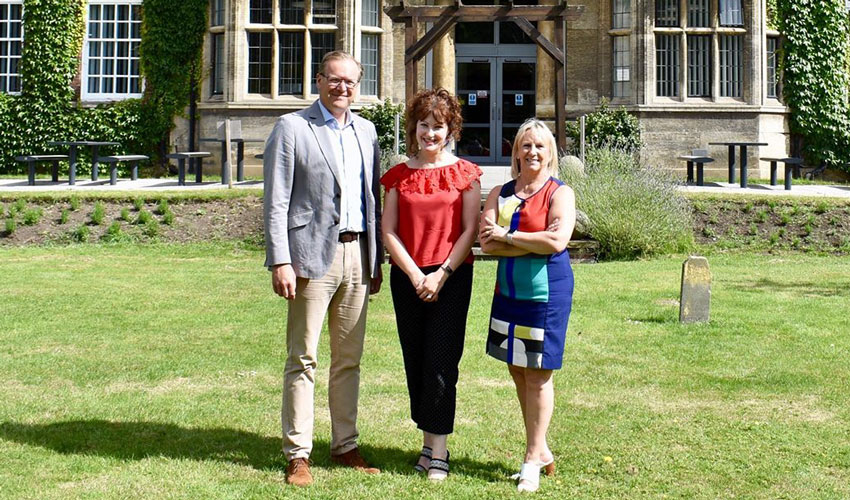 Following the successful Humber Biz week last month, featuring the Institute of Director's (IoD) Humber Luncheon with former England footballer and manager and best-selling author, Kevin Keegan as guest speaker, the WISHH Charity which raises funds to support both Hull Royal Infirmary and Castle Hill Hospital was one of three charities drawn to receive a cheque for £845.00.
The funds donated to WISHH by the IoD are going towards the purchase of a portable ultrasound probe for the Breast Care Unit at Castle Hill Hospital.
The Breast Service based at Castle Hill Hospital serves not only the population of Hull and East Yorkshire but also covers a much wider population including parts of North Yorkshire and Northern Lincolnshire.
The Breast Care Unit also acts as the base for the Humberside Screening Programme. It Screens over 165,000 women, between the ages of 47 and 73, for screening over a 3 year fixed cycle.
The Breast Surgery Department offers the full range of services for breast-related conditions and is recognised regionally as providing an excellent service for the patients that it serves.
It operates on over 500 patients each year with breast cancer and these numbers continue to increase year on year. Many of the cancers that the service has to deal with are too small to feel and sometimes it can be difficult to identify them during surgery.
The new portable probe will give surgeons the ability to better readily identify these often hard to find cancers. In addition to this, the new probe can potentially be used to find lymph glands in the axilla that have responded to chemotherapy. These lymph nodes can then undergo targeted sampling. In difficult cases, images from this portable probe can be streamed from the operating theatre to the radiology suite in order to get a real-time expert opinion from the radiologist.
Mr Kartikae Grover, Consultant Breast Surgeon and Clinical Lead said:
"I would like to thank the Institute of Directors and organisations including Arco staff, Case Training, Enterprise Cars, Hull Hospitals staff and individuals who have contributed in making the purchase of the portable breast scanner a reality for our hospitals. The scanner will enable us to offer an improved service for our patients by enabling the clinicians to identify and diagnose possible tumours more accurately than is currently possible."
Pat Coyle, Chair, IoD East Yorkshire Branch said:
"At this year's IoD Humber Lunch the local branch committee were keen to thank table sponsors who support us year on year, by raising money for the charities close to their hearts. Our charity raffle, which raised over £2500 on the day, was shared between three charities, one of which was WISHH Charity. We are extremely thankful to our guests for digging deep and raising so much to benefit these fantastic local charities."
WISHH – Working Independently to Support Hull Hospitals – was set up in 2016 to support Hull University Teaching Hospitals NHS Trust, which runs the hospitals.
The WISHH charity raises funds to enhance the services and facilities provided by the NHS by providing those "added extras" to improve the experience of patients and families.
Thousands of pounds donated by the public have already funded projects including a reminiscence cinema showing old footage of Yorkshire in the Department of Elderly Medicine and specialist equipment to help children with breathing problems in A&E.
WISHH is currently funding environmental improvements by the provision of artworks in the children's wards and other areas of the hospital as part of its arts strategy. It recently arranged delivery of a mini Tesla, donated by Tesla car owners in Hull and the East Riding, to transport children from Hull Women and Children's Hospital to operating theatres ahead of surgery.
If you would like to support WISHH, contact Lisa Whitton of the team on 01482 622299 or make a donation via our Just Giving page https://www.justgiving.com/wishh Follow us on Twitter @WISHHcharity