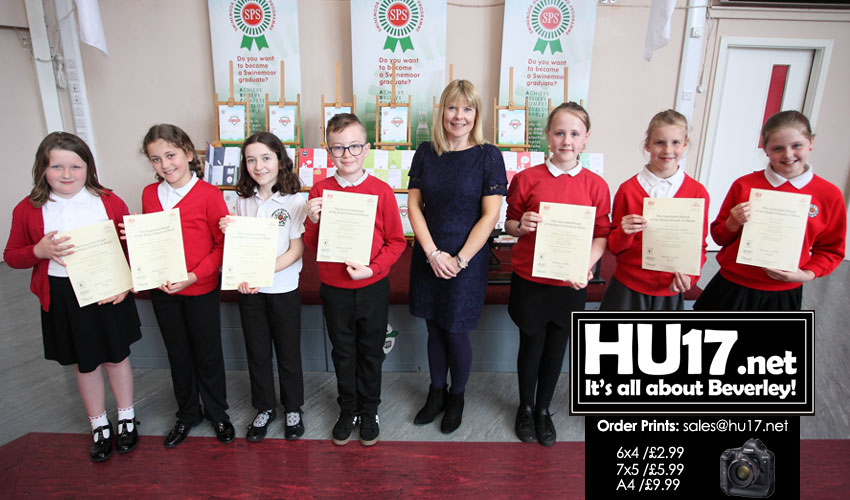 Pupils at Swinemoor Primary School have paid tribute to their music teacher Mrs Sharp after they excelled in their music exams.
Seven pupils from the school made their comments following their success. The pupils all hit the right notes as they passed their respective singing exams with merit and distinction.
Head Teacher Mr Leon Myers was thrilled with the efforts by the children. While he also says their efforts show that pupils at Swinemoor Primary School can compete with the very best.
Speaking to HU17.net Mr Myers said;
"As a school, this has never done this before. It was all funded as part of Pupil Premium Grant Provision. Under Mrs Sharp's tutelage, the school has prepared them for a prestigious singing exam."
"We were able to pay for their singing lessons and also pay for their exams so are thrilled with results they have achieved."
"Generally speaking most schools will do this through the East Riding Schools Music Service. So the standard they have achieved is very high."
Mrs Sharp Explains How She Prepared Swinemoor's Magnificent Seven
Mrs Sharp, who is qualified to present children for the exam with the Associate Board Royal Schools of Music. She asked members of the school's Chamber Choir for volunteers to take on the challenge.
In all seven of pupils took it on and as a result of hard work dedication and commitment, they all passed. Five pupils earned a distinction and two were awarded merits.
In order to be ready many hours of work went into tutoring the pupils, Mrs Sharp explained;

"We had to get them ready for the exam. It is a well-known format. In all, it consists of three pieces accompanied and one piece unaccompanied. It also involved sight signing, listening tests and performance pieces."
"Raising aspirations was a major motivating factor in doing this. Getting children to believe in themselves and that they can do this."
"We want them to appreciate that they can compete with the best of them out there. They have done, with merit and distinction."
The pupils themselves were ecstatic about their results. They were all quick to praise their teacher, Mrs Sharp, saying she had helped them build confidence.
One of the children who took part added that he would urge his friends to follow suit. He also said that by him going through the process it showed that singing was not just for girls.
Swinemoor Primary School Raising Aspirations Of Pupils And Creating Life's Winners
Mr Myers is rightly proud of the children and his colleague. He also says that programmes like this are part of the school's ongoing commitment in shaping winners in life. He said;
"They have sat a national exam by a very prestigious national body and have all exceeded well in excess of a pass. Furthermore, they have all conducted themselves with real merit or distinction."
"That is a real life skill. Being able to prepare for something and go out there and perform in front of someone who is judging you."
"That is how you get the great job you always wanted, that is how you get the university place you always wanted. Whether it is a job in engineering or accountancy it is about being able to win and perform."
While some of the pupils will leave this year, others are already preparing for their next music exam.
Mr Myers concluded;
"Breath and Depth in the curriculum is something we are proud of at Swinemoor School. We have a tremendous record with English and Mathematics it is high and has been for many years."
"Also with the quality of the artwork, the singing, the design and the technology we are always trying to make the children and community aware just how highly they achieve. This is just another example of that."