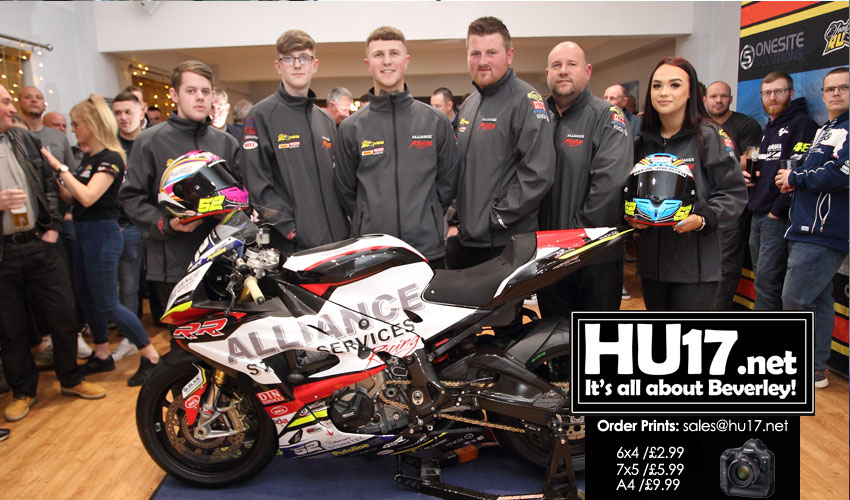 Alliance Steel Racing revealed the bike that their rider Jordan Rushby will be racing on in the upcoming Superstock 1000 Championship.
Rushby from Beverley has been racing since he was nine years old. Now aged 21 he will again be on BMW in the 2019 Superstock 1000 Championship.
This will be the second year that he has raced in this class. Now he has some experience at this level Rushby says he is looking to have a real go at the Championship.
Rushby's races take place on the undercard of the Superbike championships. On the track, he will be taking on riders who have raced at the highest level.
Speaking to HU17.net Rushby said;
"Last season was my first time at that level having stepped up from 600cc to a 1000cc. Having done a full year we know what things are like. So now I want to try and establish myself at this level."
"Last season I managed to qualify for each race and scored points, this time around I am aiming to improve on my points total and get closer to the front."
"For me, if I can finish the top 20 each week and gets points I would be really happy with that. There are more riders this season taking part. I think there are over 60 teams. As a result of this, they will split the qualifying into two parts."
"These riders I will be racing against are some of the best riders in the UK. I can not say I am better than them but mid-corner speed is where my strengths are."
Alliance Steel Racing Rider Jordan Rushby Thank Sponsors And Supporters
Despite breaking his back twice Rushby says nothing will take his love for the sport away. He also says that hurting himself only makes him want to race more.
None of this would be possible without the support of his sponsors and fan base. At the unveiling of his bike for the upcoming season, they were invited to meet Rushby and his team and see the bike.
Rushby had a message for those who have supported him he said;
"I just want to say a big thank you to all my sponsors and also to the people who support me on Facebook. All of those people who share and also like our posts really help us get to where we are."