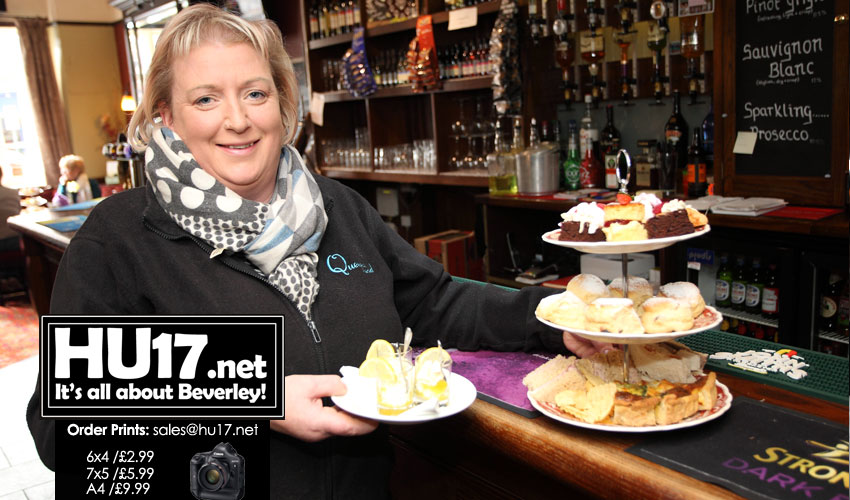 Afternoon Tea is a growing trend, says Queens Head landlady Claire Martin. The Wednesday Market public house has been offering afternoon tea for almost three years.
Claire also says that customers have given them very positive feedback since they introduced afternoon tea.
A traditional British custom dating back to 1840 Afternoon Tea was something originally enjoyed by the upper class. The presentation is all part of the experience, something the Queens Head have embraced.
Speaking to HU17.net Claire said;
"Afternoon Tea is going down very well with our customers. We have certainly been getting excellent feedback from people who have tea here."
"We are able to facilitate up to 100 people. Saying that we have provided tea for just two people too. Furthermore, you can also book to have tea with us any time of the day."
"All the sandwiches are freshly made. Our cakes and scones are also all homemade. We offer a range of cakes which change on a regular basis."
"Some of the cakes we do include chocolate brownies, Victoria sandwich cake, meringue and many more. Our sandwiches include roasted beef and ham. "
Served using traditional China, the portions are very generous. Claire says some people like to bump up their afternoon tea with a G&T or glass of Processco.
Alongside the sandwiches and cakes, customers also get homemade quiche.
Afternoon Tea Is Very Much About The Experience
Claire added;
"It is very much about the experience. Ladies come along and spend time with one another and have a good chat for a couple of hours. They do not always come in the afternoon either, we also have quite a lot of people who come at lunchtime or in the evening."
"We are able to cater for people at any time of the day. You just need to contact us and book the time you would like to come in."
To book Afternoon Tea at the Queens Head you can do so by calling 01482 867363. You can also book by contacting the Queens Head on Facebook.